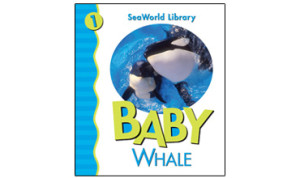 Around these parts, we live and breathe sea animals. So when I discovered the SeaWorld Library (our dream vacation someday!) from Ideals Books, well, I was all about exploring them! There are eight books in this magnificent little series and my three year old has devoured the three that we've read.
Mostly, we're in to whales and octopuses so we checked out the first book in this SeaWorld series first, Baby Whale
which features a killer whale. Each book consists of around twelve full page spreads. The sentences on each spread are simple and not too complex, providing scientific information about the animal in a storybook fashion. There is about a paragraph of information per spread and a combination of full-colored illustrations and photographs of the animal being highlighted. Each book in the series begins by introducing the new sea animal baby which has just entered the world. The books tell a little about the mommy, daddy and information on the baby itself. You watch the baby grow a little throughout the book, from birth until it is a few months old.
The second book from the series which we read (also about whales) is book #6, Baby Beluga
. In this one we learned that the Beluga grows its teeth when it is a few months old. Still, it swallows its food whole. We didn't know that before reading this series so we added it to our repertoire of Whale Facts We Randomly Tell Strangers on the Street About. Those of you with small aged children have no doubt also heard the Baby Beluga song which is fun to sing before, after, and even during the reading of this specific book.
Although these are board books, because of the information included about the whales, I would say that these are better for toddlers than babies. That said, the bright photographs and pictures, and sturdiness of the books themselves, make this a great set of books to grow up and into. You can see a complete listing of the eight books in this series by visiting Ideals Books.
My three and a half year old son dove into these (har, har) when they arrived in our mailbox and enjoyed them thoroughly. (If they had an Baby Octopus in this series, he would give it a 5 star rating. Since they don't, we'll hold back 1/2 a star.) He's so into ocean animals that he devours anything with sea creatures on it and gave each photograph careful study, noting the position of the whales and their tendencies. (His obsession has grown so much that even I began dreaming about whales and octopuses at night. True story! One night I dreamed that the world was going to be overrun by plankton that I was swimming in because there were not enough baleen whales left to eat them all! Last night there was a kid running around in my dream wearing an octopus suit with "tickle-y tentacles" as we say around here. It's getting too much!) But despite how far down I've gone on the dreaming scale, I still think of this book series is a young SeaWorld lovin' child's dream come true!
Now, if you would like to bless the little person in your life with some of these books, you can feel free to leave a comment below in hopes of winning a few titles to get you started! Ideals Books has offered to give the first three books in the series away to one of our readers. This includes: Baby Whale
, Baby Penguin
, and Baby Sea Otter
. U.S. Residents only. We will announce the winners on March 3 in our giveaway post.
Thank you, Ideals Books for your generosity! Again, if you'd like to see a complete list of the titles in the SeaWorld library, CLICK HERE.
Carrie comes by her book obsession honestly, having descended from a long line of bibliophiles. She blogs about books regularly at Reading to Know and Reading My Library.
Check out our current giveaways. Subscribe to our feed. Follow us @5M4B on Twitter.