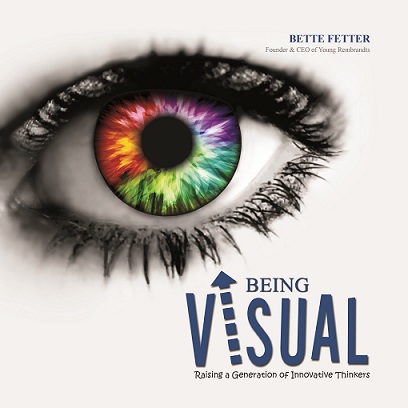 The author of Being Visual has an interesting story. She loved art as a child, but at some point, discouraged by an adult in her life, she gave it up. She's convinced that we all benefit from developing our visual spatial side.
Bette Fetter, Founder and CEO of Young Rembrandts, Inc., began her career as a professional artist with a Bachelor of Fine Arts degree from Northern Illinois University. Through her education, participation in various forms of the arts and experience with Montessori education, Bette gained first-hand understanding of the value of the arts on developing young minds.

Her passion for the arts and early childhood education led Bette to develop Young Rembrandts, a unique teaching methodology focused on developing foundational art and drawing skills in young children. Now, after 23 years teaching and developing art curriculum for kids, Bette shares what her experience, clinical research and educational experts have to say about the value of arts on early learning development for children. In her book, Being Visual, Bette illustrates the value of right-brain, visual-spatial thinking and its relation to much needed innovative thinking.
I learned so much from this book. Be sure to read my related thoughts over at 5 Minutes for Mom today. I shared some of my favorite takeaways for my own family over there.
But basically if you have a child who has ADHD or just has trouble concentrating or memorizing or who loves art, you should read this book. Fetter gives enough facts to back up her premises, but not so many that it reads like a treatise instead of a book. It's very readable and accessible. In addition to facts and tips about educating our children, some other chapters I enjoyed address
Career paths for artists
Using art to reach special needs children and senior citizens
Teaching your child to draw
You can enter to win a copy of this book. Just follow the instructions in the rafflecopter below. We'll announce a winner right here in our giveaway column on September 26.The giveaway is closed.