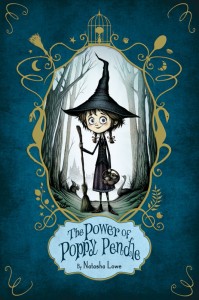 Poppy was born in a bakery. She popped out and devoured some tasty baked goods that very day. So if baking wasn't in her blood, it was certainly in her roots. She was extraordinary in other ways, showing magical powers at a very early age. But baking was always her passion.
When she reached the age at which those with magical powers are invited to go to the academy for witches, 10, her mother is excited for her opportunity to follow in the footsteps of her Great Granny Mabel, but Poppy was miserable. She had no desire to be a witch. She wanted to bake. Her mother wanted her to be a witch, and since she thought she was distracted by the baking, she cancelled her monthly cooking magazine subscription. When Poppy continued to bake, her mother removed the oven.
That was the last straw for Poppy, and she ran away from home, leaving her parents a letter telling them that she was fine, but that she didn't want to be a witch, and they just didn't understand her. She ended up taking refuge in the very bakery in which she was born. She was so happy, but of course her parents found her.
The Power of Poppy Pendle by Natasha Lowe is more a story of a child's need to be understood than that of a rebellious runaway witch. Poppy knew what her passion was, and she pursued it (Say that 10 times fast!). Though this is essentially a sweet and fun story about dreams, friendship, and lovely baked goods, she does rebel against her parents. Her mother is truly awful in a fairy tale sort of way, but a younger child probably isn't mature enough to get that without some guidance. There is also some dark magic, when Poppy runs away a second time and lives in despair, turning many living things to stone, and basically losing her own will to live.
It all ends well, and I thought it was a creative, modern type of fairy tale, but I offer my recommendation with that caveat. I think this is the perfect type of story for a mature 4th or 5th grade girl (and up).

Jennifer hopes that she'll never outgrow reading middle grade fiction. She blogs at Snapshot about life with her middle-grade son and high school daughter.