Soon into my career as a preschool teacher, I realized that I needed to overcome my mild aversion to bugs. There was no way around the fact that many of my students showed great interest in the little critters that shared the playground with us or occasionally made their way into our classroom. Any fear or distaste that I exhibited, I absolutely knew would be transferred, and I didn't want to be a part of any quashing of curiosity in three and four year old minds. Now, many years later, I have found that my one-time aversion has transformed into a personal interest, and my own children and I not only take a passing interest in insects and bugs, but actually have gone out of our way to study them!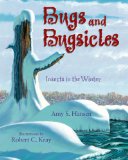 An abundance of children's literature exists on this theme, with information books about insects in good supply at any public library. A new one joins their ranks this year with the release of Amy S. Hansen's Bugs and Bugsicles. What makes this book stand out from the crowd is its focus on what happens to some insects when the winter season comes. With information on eight specific insects: the praying mantis, field cricket, dragonfly, ladybug, honeybee, pavement ant, monarch butterfly, and arctic woolly bear caterpillar, a wide variety of differences are explored and discussed. While some insects simply lay eggs and die before winter arrives, others take shelter to ride the cold days out. And the most fascinating insect in here, in my bug-loving opinion, has to be the arctic woolly bear caterpillar- you'll never believe how he survives.
The text here is informative and descriptive, introducing some scientific terms that will most likely be new to children, but it also maintains a storybook-like flow that makes it enjoyable to read. A respect and wonderment toward the insects is apparent in the book's tone, conveying excitement to readers about the incredible ways that different insects tackle the oncoming winter. (As in, this is no dry science textbook!) For the science project minded readers out there, two simple experiments are detailed in the back fo the book that demonstrate concepts described in the text. Robert C. Cray provides realistic illustrations that portray the detailed beauty of these insects and their habitats.
In the interest of full disclosure, I must state that I know the author, Amy Hansen, an active children's nonfiction writer and fellow elementary school mom in my town. I'm impressed by her efforts to rouse kids' interests in science, and I offer my praise of Bugs and Bugsicles with no hesitation (or connection to our friendship!). While this book is primarily geared toward older children, my own preschool aged little ones have greatly enjoyed looking through it and listening to an abbreviated reading. Perfect for budding entomologists and their parents alike!
Bugs and reading are both topics that have been frequently represented on Dawn's blog, my thoughts exactly, along with a fair share of cute kids and humor, if she does say so herself.