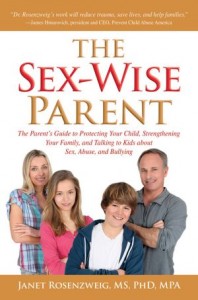 I'm going to preface this review by being straightforward about my opinions on the general topic of sex education– I'm all for openness and dispensing information at levels appropriate for children's understanding. To me, information is power, and as a parent, I want to claim the power of providing my children with accurate information about their physiology and anatomy, as well as making them aware of the values that I hold dear and that I wish for them to follow as they get older, too.
That being said, the book The Sex-Wise Parent: The Parent's Guide to Protecting Your Child, Strengthening Your Family, and Talking to Kids about Sex, Abuse, and Bullying, by Dr. Janet Rosenzweig was a perfect fit for me. Throughout the beginning sections of the book, Rosenzweig makes several strong points as to why parents should be consciously raising what she calls "sexually safe and healthy children." She contends that parents make the best source for kids' natural questions, and that those questions must be answered with solid information that will help children be prepared for their own sexual development, which of course doesn't start with the onset of puberty. The perspective that is perhaps a bit unique to this book involves the purpose of enabling children to be aware of what is normal sexual development and autonomic responses so as to help avoid or to know how to respond to sexual abuse or bullying. To be concise: "Not talking to kids about sex leaves them vulnerable to exploitation."
A point that really hit home for me was about children's need for information before their experience with puberty begins. As they notice physical changes, many children start to wonder if their experience is normal, but may not voice their concerns, especially if they've gotten the message that these are private issues not to be talked about. These passages summed it up well to me:
Thoughts such as, "Why is this happening to me?" or "Is it just me?" or worse yet, "What's wrong with me?" can be uncomfortable at best and frightening at worst for children. This fear is one of the few pains of adolescence that parents can actually prevent.

Ignorance about the normal changes of puberty can lead down this ugly path [of fear, guilt, or shame]. And if teasing or misinformation from peers is the only message your son (or daughter) hears about sex, he can stay right on that ugly course for years."
To that end, after getting parents' attention with reasons why they should be educating their children on sexual development, Rosenzweig proceeds to do a little educating herself. Three chapters are housed in a section entitled "Everything You Should Have Learned in High School and Probably Didn't: What a Parent Needs to Know to Promote Healthy Sexuality." Yes, there are diagrams that provide simple anatomical terms, which theoretically could be used in talks with children but also might simply educate adults on aspects of sexual anatomy that they were never clear on themselves. Personally, I remember being a young adult when I first learned that urine isn't expelled from a woman's vagina! As a parent, I want to ensure that my children all feel comfortable knowing how their body functions.
In addition, the final two sections of the book address the culture in which our children are growing up, from media influences to assessing the climate in your child's school and community, and suggestions to parents on how to deal with potential problems in children's sexual health and safety. Throughout, Rosenzweig's tone is serious yet down-to-earth and consistently straightforward. I highly recommend The Sex-Wise Parent: The Parent's Guide to Protecting Your Child, Strengthening Your Family, and Talking to Kids about Sex, Abuse, and Bullying, and I encourage all parents to give thought to their own approach in providing this education for their children.
Tomorrow, we're happy to bring you a contribution by author Janet Rosenzweig, MS, PhD, MPA, sharing her perspective on the role that kids' budding sexuality may play in their reading experiences. I appreciated her perspective in her guest post Kids, Books, and Sex and found that much of what she shared mirrored my own adolescent experiences reading books that began to tackle more serious issues.
Dawn's own children are well-informed on body functions and development, and she hopes this contributes to healthy experiences as they get older. Her first child is now entering adolescence, and she shares her parenting perspectives on her blog, my thoughts exactly.