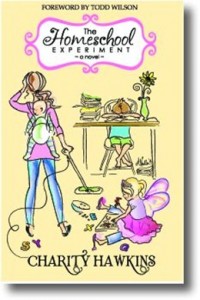 From the publisher:
Julianne Miller feels God nudging her to homeschool her three children. The only problem is, she has no idea what she's doing. But, how hard could first grade possibly be?
If you are a mother, homeschooling or not, you'll be encouraged when you join Julianne and her co-op friends as they navigate through a hard but humorous year of diapers, dinners, husbands, meltdowns, and math lessons.
And that's just September.
The Homeschool Experiment by Charity Hawkins reads like a hybrid novel/memoir/parenting guide. It is a novel, but it is based on the author's own experiences, and it's written in a month-to-month recap format — not really journal entries but a look at the changes that the fictitious Julianne's family goes through each month. Adding to the feel of a parenting guide or homeschooling instructional manual, Hawkins includes an appendix with some real homeschooling resources the author recommends. There is also a homeschooling group discussion guide, which could be used in any bookclub setting.
Julianne's story comes across like a conversation you'd have with a friend. And just like a friend, sometimes there's too much detail given, but in general, the reader can identify with Julianne, and just like a conversation with a good friend, I came away with tips and ideas, or at least encouragement — feeling like I'm not alone on this journey of motherhood.
There are several audiences who I think might most appreciate this book:
a new Christian woman trying to figure out what it really means to put daily decisions in the hands of our Sovereign God. I don't think that I'm the only one who learns from fictional characters, right? The way Hawkins' writes about Julianne praying through the decision to continue homeschooling is real and thoughtful.
a mom with young children who is planning to homeschool or has been homeschooling. Sometimes it's nice to read novels featuring people just like us, be it moms of multiples, special needs children, or in this case — homeschoolers with young children. The other side of the coin is that reading about people who are not like us often gives us more insight and understanding of others. I don't homeschool, nor do I ever plan to, but many of my friends do.
any mom who feels overwhelmed at all she's expected to do and is open for some helpful tips. Though this is a novel, I literally highlighted and jotted down some notes about things I can change about the way my household is running.
Find out more at The Homeschool Experiment website. The ebook is available on amazon or Barnes and Noble and you can buy the paperback edition from Familyman ministries or CBD. Homeschool groups can also get a discount when they buy 20 or more.
Jennifer Donovan will happily be sending off her children to 3rd grade and 9th grade next year; however, she does enjoy these long summer days when they are home all day. She blogs at Snapshot.