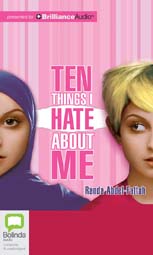 In Ten Things I Hate About Me author Randa Abdel-Fattah tells a sweet coming of age story. Jamilah is hiding behind a double identity. At home, she's a devoted daughter to her father who is raising her and her two older siblings on his own since her mom passed away several years ago — even if she thinks he's way too strict. She enjoys going to her madrasa Arabic school where her teacher is a good support for her, and her friends — with whom she plays a darabuka drum in a traditional/popular sort of crossover band.
At school, she's known as Jamie, and her blue contacts and bleached hair have helped her to blend in instead of stand out as a target of some of the racist comments that the other non-white Australians get. But hiding her identity has ended up isolating her. She constantly makes excuses about why she can't go out with her friends, since she can't tell them that her father is that strict, and she could never invite them to her house.
She starts emailing a guy she meets online on the school server, and she finds herself finally being honest about her real self for the first time. At the same time, Peter, the most popular boy in school likes her, but even though she's flattered, she doesn't like the way he treats other people, especially the misfit Timothy, who Jamie respects because he is one of the few people who is willing to stand up to him.
This novel was funny, touching, and the unusual setting just added interest (there aren't many books set in Australia, much less featuring a Lebonese family). I definitely wanted to see if Jamie or Jamilah would end up on top.
As an adult, I like reading multicultural literature for a lot of reasons, but reading this YA book told from the viewpoint of an Lebonese-Australian teen, I realized it was just another way to address the theme that is so common in YA literature — the feeling of not fitting in and growing into your true self. Whether a teen feels that way because of her race or socio-economic status or her place in the high school pecking order, every teen feels that way to some degree.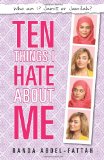 Amanda (13) and I both liked this a lot. Amanda read the author's first book, Does My Head Look Big In This?, and liked it even more (It's available as an audiobook as well.)
The cover at the top left is the audiobook cover, since that's what I'm reviewing, but I wanted to show the paperback cover as well (right), because I like it a lot.
CONTENT NOTE:
This is a great book for younger YA readers (basically anytime I mark something 12 and up in my reviews, it will mean that it's okay for most 7th or 8th graders and up). There are a few mild profanities, but no glorification of questionable teen behavior which is what I most look out for as a parent. If you ever have a question about specific content on ANY of our reviews (whether for kids or adults), just leave us a comment, and we'll try to answer it for you!
AUDIOBOOK NOTES:
Rebecca Macauley did a wonderful job reading. Her voice was pleasant and youthful enough to be a good fit for a YA protagonist. Additionally, her Australian accent rooted the setting even further — never letting me forget that I was Down Under. You can hear a sample on Brilliance audio's site. While you're there, check out the great specials on audiobooks.
Jennifer's daughter Amanda has decided that she's going to be reading YA forever. Jennifer likes being an adult reader of YA literature herself. She blogs at Snapshot.