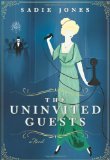 Author Sadie Jones has managed to pull off something remarkable—she has written a book set in Edwardian times that reads as if it was written in Edwardian times without feeling stilted. I thoroughly enjoyed The Uninvited Guests
. It's delightfully creepy, portrays characters who feel all too real, and takes us through pain and horror and redemption and love, all in the course of one remarkable night.
The book opens with a morning meal in a country house. Emerald and Clovis, young adults, are not overly fond of their stepfather, but they are hoping he'll be able to save their house, which they are in danger of losing due to debt. He is off to attempt to borrow money, and his absence throughout the novel is a key part in the events that unfold. The household consists of their mother, Charlotte, their younger sister Imogen, called "Smudge," the housekeeper Florence, who shares some sort of mysterious past with their mother, and various assorted servants and groundskeepers.
It's Emerald's 20th birthday, and there is to be a small party; invited are a young farmer whose star is rising and who is now richer than the family, and a brother and sister pair who were childhood friends of Clovis and Emerald. Both John (the farmer) and Ernest (the childhood friend) are potential suitors for Emerald's hand. On the way to meet the visitors at the train station, they meet a railway guard who tells them of a terrible accident and asks them to temporarily house the victims of the train wreck until the Railway (it is always referred to with a capital letter, as befits the august place occupied by British Rail at the time) can make other arrangements for them. Almost immediately, a shifty and shifting mass of people appear in the drive, overwhelming in number and demands, and the evening really takes off.
Apparently all the victims were 3rd-class railway passengers except one, and he claims a place at the family celebration due to his class and a previous acquaintance with Charlotte, back before her first marriage. Charles is an odd character, and your suspicions will grow about his motives and the truth behind him as events continue to unfold. The mass of unexpected guests, the strength of Charles' personality, and the characters of the family and how they respond to various suggestions all add up to a most unusual evening.
The Uninvited Guests
takes an uncompromising look at both the depths and heights of human nature. It is at times heart-breaking, and at times hilarious. It manages to include all the cliches (eccentric characters, crumbling country homes, two men vying for the attention of a girl) but in a fresh, new way. Although I didn't like all the characters, I loved this book. Highly recommended.

Elizabeth thoroughly enjoys a nice Edwardian ghost story, and sometimes wonders why since she's not at all interested in the paranormal in real life and hates horror movies. Read more at her blog Planet Nomad.