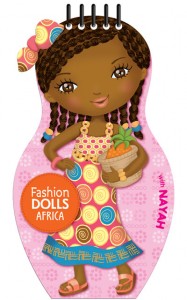 Combining an activity book with multicultural information and exposure, Kane Miller has created a series of spiral-bound doll-shaped books called Fashion Dolls.
My children and I have been having fun with the Fashion Dolls: Africa and Fashion Dolls: China books. Each book has a name for the featured doll, and in both Nayah's and Shan's books, information is presented about some basic topics that interest children such as food, clothing, animals, school, and music. The language used is appropriate for early readers, and my own kindergarten-aged daughter has enjoyed reading through the facts pages, and sharing the information with her little brother.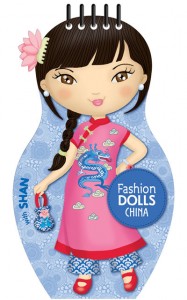 The biggest draw for them is definitely turning out to be the creative aspect of the books, though. I remember my own paper dolls phase in childhood, and it's been fun watching my daughter and son take interest in coloring in the clothing on these dolls. They can draw their own clothing on some, or simply embellish the designs that are already in place. Four pages of stickers are included, too, along with a page of stencils to add specific shapes to the clothing designs.
These are great activity books to keep in your purse or backpack, perfect for downtime on the go, as my own daughter used it just the other night as we grocery shopped. For some fun exposure to cultures around the world, also including India, Japan, and The Islands, check out Kane Miller's Fashion Dolls series.
Dawn appreciates having fun books at the ready to entertain and educate her kids. Her life is chronicled on her blog, my thoughts exactly.