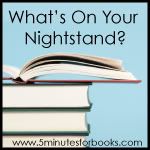 Unfortunately, my nightstand/bookshelf is piling up. I've tried to say no to book offers coming my way. It's a busy time of year, and add to that, we had some major upheaval that has had me driving, and talking, and planning, and helping. Notice I did NOT say reading. I've only read about 150 pages in the last 8 days. That's probably a record.
I know that I will return to my beloved books, and I'm still snatching a few minutes of reading time at the end of my very long days. By next month's Nightstand, my kids will be almost out of school. Summer and other vacations are great for my reading time, so I'm not in despair over the prospects of clearing off my nightstand of TBRs just yet.
What about you? Please link up below. We'd love to hear how April went as far as a reading month, or what you plan to read in May.
Check out our current giveaways. Subscribe to our feed. Follow us @5M4B on Twitter or on Facebook or YouTube.