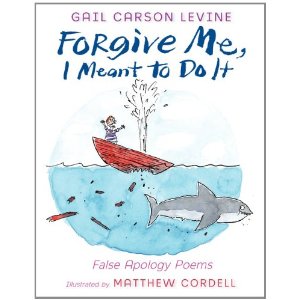 Forgive Me, I Meant to Do It: False Apology Poems is a quirky collection of poems based on the model of William Carlos Williams' false apology poem "This is Just to Say." Certainly if you took any sort of English class ever, you studied this poem. You know, the ones in which he ate the plums that his wife was probably saving for breakfast? He asked in the last stanza, "Forgive me, they were delicious, so sweet and so cold."
An entire book celebrating the false apology? Yep, that's what Gail Carson Levine has given us. In fact, each poem is titled that, which makes for a pretty hilarious table of contents. It sets the book off on the right tongue-in-cheek foot.
Making these poems even more accessible is the use of familiar characters. Levine is noted for her novels such as Ella Enchanted which dig deeper into traditional fairy tale characters, and in this book of poems we see Sleeping Beauty, Jill (sans Jack), and perhaps my favorite and most darkly humorous — Hansel and Gretel, among others. Contemporary realistic characters such as siblings, parents, and even the author herself, are also featured in other poems.
In one section of the book, the author urges the reader to try to create his or her own false apology poem.
This book is slim, only 80 pages, featuring a poem per page (or in some cases, a two-page spread), each of which is accompanied by a line drawing by Matthew Cordell. But instead of the repeated theme getting old, it just keeps affirming over and over again how delightful it is.
This set of poems can truly be enjoyed by all ages — from first grade up through middle school.
Jennifer Donovan often errs accidentally on purpose. She blogs at Snapshot.