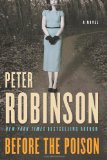 Chris Lowndes grew up in Yorkshire but left as a young man and moved to LA, where he had a successful career as a composer of music for films, what one character calls "the music no one listens to." Now, aged about 60 and grieving the recent loss of his wife Laura to cancer, he's gone back, continuing the plans the two had made together. He has bought, sight unseen, a large home in the country, a couple of miles from the nearest town, splendidly isolated. It comes furnished, and the friendly estate agent takes the trouble to pick him up some groceries and champagne when she meets him to show him round.
From the very beginning, the house seems to have echoes for Chris. He hears night noises, catches glimpses of movement in the shadows. Intrigued, he begins to research its history, and discovers the last inhabitants were country doctor Ernest Fox, dour and cold, and his beautiful much-younger wife Grace, who was accused of poisoning him, convicted, and hung. Chris decides to learn more and ends up traveling the world in an effort to figure out what really happened 60 years previously.
The first chapters of Before the Poison: A Novel
open with excerpts from an account of the trial and execution of Grace Fox, and then continue with Chris' life; his growing interest with history that skirts obsession, his continual missing of his wife, his burgeoning relationships with neighbours, townspeople, and in particular his attractive house agent. By the time Chris has traveled to Paris to meet and interview the man who was Grace Fox's lover, and found out more about her family, we have finished the account of the trial. Subsequent chapters open with excerpts from Grace's journal, kept during her time as a Queen Alexandra's nurse on the front lines of the battle in WW2, both in the Pacific and in France. Her tales are gripping, and add to our understanding of this woman, who she was, the times she lived in, and how they affected her.
The story is well told and the book well-written. Both people and places were described so well that I had no trouble picturing them, from Chris' Kilnsgate House in the Yorkshire Dales to the South African coast. The contemporary story takes place in autumn and winter, and beautifully captures changing seasons, falling snow, warm pubs and evenings with friends. Grace's journal gave me an insight into aspect of the war I hadn't thought about–how nurses were involved and affected and yet ultimately not recognized or honoured in the same way as were the soldiers they cared for.
Could Grace have done it? That's the question that haunts Chris, and the reader too. As we go deeper into her story and events during and following WWII, we find that the story has implications for dilemmas of our present day. Before the Poison: A Novel
is well-written and thoroughly enjoyable. I highly recommend it.
Elizabeth's Welsh mother lived through the war and did her nurse's training soon afterwards, so Elizabeth has a special interest in women with similar experiences. Learn more at her blog Planet Nomad, where she once wrote a short overview of her mother's life.