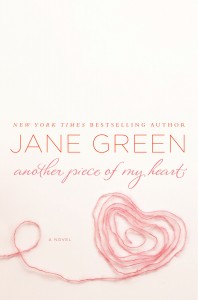 Jane Green is an expert at writing about relationships, especially those among woman, and she's outdone herself with her latest novel, Another Piece of My Heart, where she tackles step-motherhood.
Nancy reviewed Another Piece of My Heart at 5 Minutes for Mom. Please click over to read her review, and enter to win an autographed copy of the book.
I participated in a fun phone interview with author Jane Green. There's nothing like talking with another booklover — unless it's talking with one of those wonderful people who actually create these books we love. Speaking with Jane Green was a healthy portion of both. Although I haven't read any of Jane Green's novels yet, I was happy to be able to sit in for Nancy who was unavailable.
One of Nancy's observations was that Jane used to set her novels in London, and now since she's moved to the U.S., they are set here. The other fans on the conference call had similar questions, as they commended her on her completely realistic settings. Will she set more novels in London? Probably not, Green said. She doesn't spend much time in London anymore, and when she does, she doesn't recognize it. She is firmly rooted in America now.
Another Piece of My Heart is set in the California Wine Country, where she has spent a lot of time with family.
"I couldn't do the suburbs or any more of the East Coast, although, of course, I've revisited them now with the book I've just finished, but that's a whole other story. I think I was just completely bored of writing about Connecticut. And I thought, well, if I'm bored writing about Connecticut, then I know my readers are, too."
I have never explored the relationship between reader and writer, but Jane Green's opinions on this topic were hilarious. When she sees someone reading her book, she actually goes up to them and talks to them:
People do not expect the author to suddenly appear. Often they don't believe you. But I still get so excited if I ever see anybody reading my book overwhelm them. I'm just so excited and I want to know what they think of it. I usually go up and say, "I'm really sorry to bother you, but I have to just ask, are you enjoying it?" Usually as I'm walking away, they surreptitiously flip to the back of the book to check the photograph. That's not always a good thing, because usually, I look nothing like that photograph.
Jane Green read the audiobook herself. Nancy explained some of the issues she had with that in her review and giveaway at 5 Minutes for Mom. Since we are both audiobook lovers, we were very curious about her decision to read it herself. I think that when an author reads his or her own work, there is a connection there that sometimes makes up for the difference in quality that a professional reader might bring.
This was what drew Jane to the project: "I feel that because I know these characters, I really can bring them to life in a way that no one else can. Other people can do and have done an amazing job, but I think it does bring something different to the table when you're an author. I also recognize that almost every author thinks they can read their own books and sometimes it's rubbish. People had always said to me that I really ought to read my own books, and I'd always just sort of vaguely laughed."
She felt a special connection to these characters, and so this time, she asked if she could. The people at Macmillan Audio actually made her audition, saying that it was unlikely, but in the end they let her do it.
I did love the experience. I recognize that there is a little bit of difficulty with the fact that my characters are all American and there is no explanation for this English person reading the book, although I certainly tried to soften my accent so it wasn't quite as British as it probably usually is.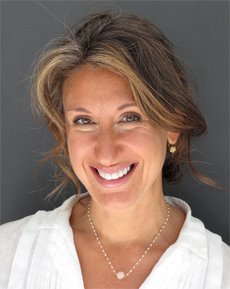 I look forward to checking out these characters and this family and my new "friend" Jane Green's work.
You can win an autographed copy of her book Another Piece of My Heart at 5 Minutes for Mom. Read Nancy's full review, and leave a comment over there if you'd like to win (U.S. only). You can also comment on this interview for a second chance to win.
Connect with Jane Green:
www.JaneGreen.com
@JaneGreen
http://www.facebook.com/authorJaneGreen
Don't miss a thing: Check out our current giveaways. Subscribe to our feed or video reviews on YouTube. Follow us @5M4B on Twitter or on Facebook.