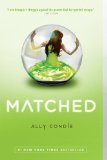 My daughter, Ilsa, who's 14, loves dystopian fiction, and is not averse to a little romance mixed in. As someone who grew up in the 70s and 80s worrying about communist invasions and gulags (I had a very vivid imagination), this mystifies me—at her age, I hated the thought of creepy Societies watching my every move, or a world without enough food or fresh water and with no opportunity for advancement. Ilsa persuaded me to check out Scholastic's Dystopian Romance pack and then, ironically, had so much homework that she hasn't had a chance to read them yet. This is unusual, as my daughter tends to devour books and has been longing to read Matched
in particular since it first came out. I had to read them for her, and tell her how good they were while strictly informing her she'd better finish her homework and get good grades on her exams! So it's been a fun week at our house while she waited for her opportunity to read it.
Keep reading at 5 Minutes for Mom to find out my thoughts on this book and the new dystopian novel Restoring Harmony in our weekly book review column. You can enter to win your own set as well by leaving a comment over there.
We are happy to a part of Scholastic's Parent Circle. Each month, one of our reviewers will select a book from that month's Scholastic Book Club flyers. Ilsa and I selected this Dystopian Romance pack from February's TAB flyer.

Elizabeth read 1984 at an impressionable age which has forever tinged her view of dystopian fiction. That didn't stop her from enjoying these two, however. Read more at her blog Planet Nomad.