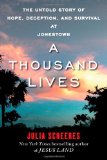 A Thousand Lives: The Untold Story of Hope, Deception, and Survival at Jonestown is a disturbing look at Jim Jones, an effort to tell the story of his rise to cult leader and descent into drug-addicted, ego-driven insanity. But it's not a one-note story. Those who fell under his spell are not painted as simple-minded fools, but are profiled as whole people who were drawn to Jones for different reasons, and were either deluded even until the end, or were trapped, like many of the 900+ who died at Jonestown.
Julia Scheeres masterfully weaves together of the letters, journals, and recordings that the FBI recently released of the mass murder/suicide that took place in Guyana. She adds to it the television coverage, print articles, and stories of those who had been involved with Jones over the years in one way or another.
When I read about the upcoming release of A Thousand Lives and had the opportunity to get a copy via NetGalley, I was fascinated. I'm not usually a bad-news junkie, a reality train-wreck watcher, or a rubbernecker, but for some reason the premise captured me. The depth of the stories and the horrific truth of the situation, coupled with Scheeres' fantastic narrative nonfiction "storytelling" made this a book that I couldn't put down. I also felt as if I read the book with a look of jaw-dropping awe on my face — I become that immersed in the story.
If you are the kind of person who finds yourself reading random well-written non-fiction and enjoying it, you'll definitely like this book. If you are interested in what draws people into cults and inspires loyalty to charismatic — though obviously flawed — leaders, you'll find some answers here.
Highly recommended.
Jennifer Donovan loves it when she can gain knowledge and be entertained (perhaps engaged is a better word in this circumstance) at the same time. She blogs at Snapshot, where she strives to inform and entertain, with no guarantee of results.