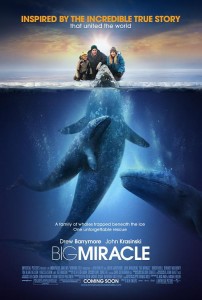 "Well-written and interesting non-fiction" should be a genre in itself. Non-fiction is one of those things that attracts those who are interested in whatever topic (finance, baseball, or history), but great non-fiction transcends genre and pulls in readers who might be only mildly interested in a certain topic, or perhaps never even thought they'd read a book about a certain subject.
I think that Big Miracle fits in this "interesting non-fiction category."
The Big Miracle movie is based on a true story. Reporter Tom Rose was one of the people who went to Barrow, Alaska to cover the event. He wrote a book called Freeing the Whales: How the Media Created the World's Greatest Non-Event, which has recently been republished as Big Miracle, movie tie-in.
The original title shows a bit of his tongue-in-cheek philosophy (and honestly, this almost satirical view does come across a bit in the movie, too), but in reality, Rose's book is pretty balanced. He gives information about Alaskan Eskimo whale-hunting (and how the subsistence hunting legislation actually caused more whales to be killed than before), the culture in Barrow, Alaska, the way news media works, what makes a story popular and why, the oil business of drilling in Alaska (correctly expressed in Texas vernacular as the "all bidness"), and so much more.
Set in the Cold War era of 1988, politics come into play as well, when a Russian ship is the only one available that can reach that area to break the ice.
If you see the movie (and I do recommend it for you and your whole family — I loved it), don't expect the book to be a story like this is, but if you want to know more about the people and culture in this small remote Alaskan town and how this even affected them (and didn't affect them), I can highly recommend this book. I haven't quite finished it, but it's a very readable look at this one event and the real-life characters who were principals in the action.
Truly a movie for the whole family
Big Miracle opens February 3.
I can't wait to share it with my family, because I know that they'll all love it, which is rare to be confident that my 13-year-old daughter and 7-year-old son, not to mention my husband, will all enjoy the same movie!
**Universal Studios took care of my travel expenses for this lovely trip to Santa Monica, California for the Big Miracle press junket, in exchange for coverage of the movie, however, I was not told what to say. My opinions are completely my own.
Check out all the Big Miracle movie coverage over at 5 Minutes for Mom: