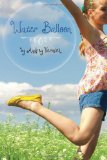 As is fitting for a coming-of-age story, Marley's life is turning upside down. Her parents are separated, her best friends are totally involved in drama camp and making new friends, and she has to stay in her dad's new small not-home apartment for the summer while her mom goes to help take care of her mother.
Marley is a sweet and likable character. Unlike her friends who are hanging out with high school kids, she's still plotting out the ultimate water balloon attack – a tradition they've had for years. Her dad's next-door neighbor is cute, but is there something romantic going on or are they just friends? She sure feels weird when she sees him – weird in a good way – but is she ready for all that stuff?
Things go awry when she launches her attack at a drama party at her friend's house that they invite her to in spite of the fact that she hasn't been hanging with that crowd, but it ends up being about more than high school boys and a case of bad timing. Marley finally realizes that maybe they've grown apart. Maybe the friendship has run it's course.
The lesson is one that girls learn as they get ready to transition into high school. It's painful, and it can be hard to break out of your past and forge forward with new friends but the author expresses the difficulty and the necessity of it so well. I loved our young heroine, who though her friends paint her as babyish, was really just a good kid with a good head on her shoulders.
Water Balloon by Audrey Vernick is a sweetly dramatic novel, which also had many moments where I laughed out loud. It would be a great book to share with your 11 – 14 year old daughter and use the situations as a springboard to talk about things. Or better yet – DON'T beat her over the head with conversation about "What if your friends invited you to a party where people were drinking and you felt uncomfortable," or "Don't you feel like you and Friend X are interested in different things now?" Save the shared experience of the book to pull out of your arsenal to talk about some difficult situations when the time comes.
This book was a Cybils nominee in the Middle Grade Fiction category, and I'm glad I had the chance to read it. It's definitely more appropriate for the older tween segment of this category and young teens as well, but I wouldn't recommend it to 9-year-olds as the description on amazon says.
Jennifer Donovan had fun in middle school, probably because she too had a pretty good head on her shoulders and didn't rush to grow up too fast. She's glad her own 8th grade daughter lives in a similar way. Jennifer blogs at Snapshot.