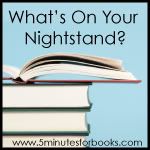 I don't know if you made some reading resolutions like Nancy and I did, or perhaps your year has brought some lifestyle changes like Dawn that are affecting your reading.
Regardless, we want to hear how it's going! Each month on the 4th Tuesday we give you the opportunity to reflect on what you've read and/or tell us what you want to read.
If you wrote up a post on your blog, just link directly to the post in the box below. It's so exciting to have new people joining in each month. If this is your first time, please put that next to your name in the linky, so that we can give you an extra-warm welcome!
Check out our current giveaways. Subscribe to our feed. Follow us @5M4B on Twitter or on Facebook or YouTube.