Unwrapping a book from under the tree has always been my favorite Christmas morning experience, and the intent of our Gift Guide and Giveaway is to provide some of our own personal recommendations as you shop for the ones you love. How about adding some Christmas books to your list? Here are a couple books that span from children to adult readers.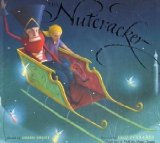 The beauty of this classic holiday tale shines through in John Cech's new version of The Nutcracker, amazingly illustrated by Eric Puybaret. The full story is told with detail and flair in this picture book for older children, with a lengthy text that invites parents and children to snuggle under a blanket for an extended reading aloud session, preferably by a warm fire. (Maybe this just happens to be my own image of a perfect Christmas story time.)
If you're at all familiar with the holiday ballet, you won't be disappointed by Cech's version, which also incorporates other details true to the original story The Nutcracker and the Mouse King by E.T.A. Hoffman. The illustrations in this book are truly exquisite, with the fantastic creatures depicted in long, angular lines, just as nutcrackers ought to be. The vibrant color hue is perfectly suited to the season, and parents will delight in reading this story aloud as much as children will enjoy hearing it!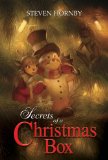 Secrets of a Christmas Box is a middle-grade novel that creates a world inhabited by the Christmas tree ornaments and lights in one suburban family's collection. The story opens with Larry, a glass snowman ornament, along with his girlfriend Debbie and a new-to-the-collection toy soldier dubbed Splint, searching for one of their own who seems 'not to have made it back' to the tree this year. They make the fateful decision to break the ultimate rule for the Tree-Dwellers, leaving the tree itself, in an effort to search out the Christmas Box where they are stored every year. Along the way, they find danger, adventure and challenges galore. The tone and pace of the action are just the right fit for an older elementary school audience, and Hornby paints a whimsical world in what has become a staple of every holiday season for so many children.
With suspenseful and surprising moments, Secrets of a Christmas Box makes for a great read during the holidays, and I personally look forward to sharing this story with my own nine year old this winter. I predict that each time I glance in the tree's direction, I'll be watching for any sly movements amongst the ornaments. You never know, right?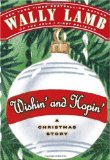 For the final book, let me start by saying that my adoration for the writing of Wally Lamb is immeasurable. From this humble reader's judgment, Lamb is a masterful storyteller whose incredible talent at creating ultra-believable characters never ceases to astound me. While we had to wait years between his last two novels (what felt like many, many years for his devoted fans), he has followed up on last year's The Hour I First Believed with a new novella, Wishin' and Hopin'.
Back in the fall of 1964, Felix Funicello, third cousin on his father's side to that famous former Mouseketeer Annette, was a fifth grader at St. Aloysius Gonzaga Parochial school in the town of Three Rivers, Connecticut. (Readers of Wally Lamb will recognize this fictional town from his previous works, and should know that this is based upon the area in Eastern Connecticut where he resides, and where I hail from, as well!) When he's not avoiding the punishments of the Sisters at school, he can be found at his family's lunch counter in the New London bus station, where he is exposed to a whole different world of conversations and adult asides that his ten-year-old brain can't always seem to figure out. Told in his childhood voice, the story that unfolds over the next few months is as outrageously funny and endearingly realistic as can be. From one mischievous act flow a series of events that make for the most memorable school year of Felix's life.
Somehow, Lamb brings to life the feeling of this area of Connecticut in a way that I have yet been able to articulate. But when I read this novella, I could hear my grandparents' voices speaking to me, and the familiarity of the culture of this area leaped off the page. Even within the exact time frame, I could imagine my own father among Felix and his classmates, especially since I've been privy to some of the mischievous tales from his youth! Once you start to read Wishin' and Hopin', it's very easy to forget about everything else around you. As a much shorter read than Lamb's other publications, this is the perfect little book to stuff the stocking of spouse or parent, or to pick up for yourself during the few days work is closed over the holidays!
All Dawn wants for Christmas is a happy and healthy family, and perhaps more time to blog away at my thoughts exactly.

Now for the giveaway! One lucky winner will receive a signed copy of Secrets of a Christmas Box in velvet drawstring bag, with promotional stickers, pencils, and balloons, a copy of The Nutcracker, and a copy of Wishin' and Hopin'! One runner-up will receive the gift package of Secrets of a Christmas Box. Please leave a comment here (just one!) to enter, U.S. only, please.
Entries will be closed on December 8, and we will announce the winners on December 9. Please watch your email and check the site for your name, so that we can collect your shipping information and you can get your gift by Christmas.
This giveaway is now closed. Thanks!
Be sure you've entered all the giveaways in our 2009 Gift Guide and Giveaway event.