I am really excited about this particular giveaway because it includes some books that I have really enjoyed over the course of this past year. These are books I would recommend with little to no hesitation as being good reads and are definitely on my "gift buying" list this year. They aren't necessarily just for men, but would definitely appeal to those who enjoy a bit more action and adventure in their reading.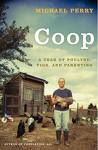 First of all, there's Coop: A Year of Poultry, Pigs, and Parenting
. You can read my review of Coop and see that I could not find enough nice things to say about the book. I still can't. This book is perfect for people. (That's not an incomplete sentence by the way.) If you are a person and you have a family, you will appreciate this memoir. Bonus points if you live on a farm. Author Michael Perry is an extremely good writer and this book is a nice, easy read.
What puts this book into the "Action & Adventure" category? Are you raising kids? Do you own a pig? 'Nough said.

I also have to recommend The Sacred Cipher
. I wrote a review of The Sacred Cipher around these parts recently and I absolutely loved it. It is clean, good fun. This book would be perfect for anyone who enjoyed the movie National Treasure with Nicholas Cage. It's similar in kind to that. It is engaging reading, full of explosions and treasures hunts and yet it's very clean. It's unique enough to not keep you thinking of National Treasure, but it definitely has the same flavor to it.
I, for one, would love to see a movie made out of this particular book. Definitely one to highlight on your gift list!

I wrote a review of Night of Flames over on my own site, Reading to Know and found this to be an interesting novel about World War II. It focuses on the invasion of Poland, which is a country you hear less about in the fiction department, making it a more unique read. It does have some language issues in it, but as I mentioned in my review, I thought the language was directed at the right people and was used well (or, as "well" as foul words can ever be). I found this story to be very thought-provoking. Author Douglas Jacobson is a very good story teller and so I'd recommend this book to people on your Christmas list who enjoy Historical fiction, specifically related to World War II.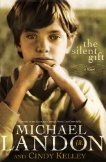 I am over the moon excited by this particular book. I read and wrote up a review of The Silent Gift over at Reading to Know and I would heartily recommend and encourage that you give the review a read, and then hurry out and find a copy of this book for yourself. If you or anyone you know enjoyed The Thirteenth Tale, then you will enjoy The Silent Gift. Incredibly clever and exciting book and I enthusiastically recommend it several times over.
SEVERAL times over!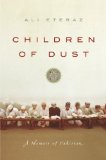 Lastly, Jennifer read and reviewed Children of Dust: A Memoir of Pakistan here at 5 Minutes for Books, and she thought it would make a great book for that book-loving guy in your life. She would describe this book as a male coming of age story. This book would be good for those who enjoy reading about religion, stories set in the Middle East, or fans of well-written exotic (adventurous?) memoir.
Carrie comes by her book obsession honestly, having descended from a long line of bibliophiles. She blogs about books regularly at Reading to Know and Reading My Library.

Now I am happy to announce that one of you have a chance at winning one copy of each of the above mentioned titles. If you would like to be entered to win, please leave one (and only one!) comment below.
THIS GIVEAWAY IS NOW CLOSED
Entries will be closed on December 8, and we will announce the winners on December 9. Please watch your email and check the site for your name, so that we can collect your shipping information and you can get your gift by Christmas.
Be sure you've entered all the giveaways in our 2009 Gift Guide and Giveaway event.