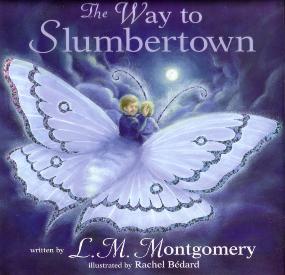 This year marks the 100th anniversary since Anne of Green Gables, by Lucy Maud Montgomery, was published. Anne has woven her way into the hearts of many and put Lucy Maud Montgomery and her beloved Prince Edward Island on the map. What many people don't realize is that L.M. Montgomery wrote a host of other stories. She published no less than 20 novels and wrote hundreds of short stories (most of which are included in various collections). She also wrote poetry. Being a true L.M.M. fan – I've even read that. (For the record, I'm not a poetry fan by any stretch of the imagination. But love makes you read crazy things.) I can't get enough of this remarkable story-teller!
A short time ago I discovered a beautifully illustrated book entitled The Way to Slumbertown. It contains one of L.M.M.'s poems and is illustrated by Rachel Bedard. Not only is a great, calming bedtime story but it is an excellent way to introduce young people to the world and imagination of Ms. Montgomery.
I think Rachel Bedard captured the spirit of Montgomery with her illustrations. It's a magical little book (published by Lobster Press) and worthy of being in any collector's library. Just don't forget to take it down from the shelves once in awhile and read it as you tuck your little one's in to bed. I look forward to doing just that with my kids!