Sometimes you just want to have fun with your love of reading. You want to proclaim it, you want to live it, and you want to share it! What better way than with Upstart who profess "creative promotions to Read Every Reader." Whether you are a librarian, a teacher, or a mom on a reading mission, Upstart has some really fun motivators and gift ideas for readers. Furthermore, their prices are extremely reasonable (making them all the more curious and interesting, no?)!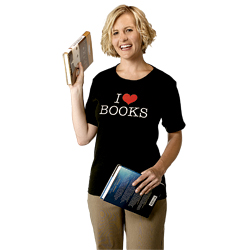 I tried out their I "Heart" Books t-shirt to the hilarity of my friends who think I spend too much time reading, I know. (Can you really read too much? I think not.) They burst out laughing when they saw the shirt but it does proclaim a truth. Furthermore, I've washed it at least a dozen times and the cotton quality is excellent -it hasn't shrunk. I'm just hoping the UPS man won't catch me in this shirt when he drops off another box labeled, "5 Minutes for Books" and "Reading to Know." Then again, I bet he wouldn't be all that surprised either. (He already makes comments.)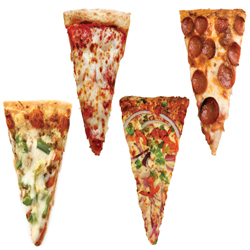 Upstart has a variety of reading posters and decorations for libraries and classrooms. They also have a large collection of bookmarks in different sizes/themes/shapes to attract the attention of young eyes and young readers. Want to offer your children special bookmarks for elections, holidays, safari adventures? Look no further. We checked out their pizza bookmarks which my son thinks are a hoot. Each one looks like a slice of pizza and because there is such a large quantity of bookmarks in each package, if you are selecting for a family – I'd say pick one style and you'll never be in want! The thing I love about their bookmark packages is that they come in a variety. For example, in the pizza pack you receive four different types of pizza slices. The paper is a perfect thickness. They will not rip easily and will last for a long time. Furthermore, they are easy to store and great to have on hand. Check out their bookmark designs and varieties.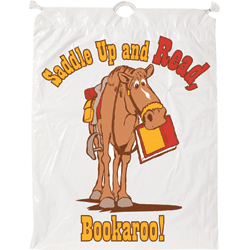 Lastly, (or rather, the last thing I am going to talk about!) they have fantastic library book bags. I've been using the same bag for a month now and I've stuffed it full to busting with library books during each use. The plastic hasn't ripped, nor has it strained and I have absolutely put the bag to the test! It's fun to hand my son a bag and tell him to "fill it up!" with whatever books he likes. The bags have a pull string to close it too to prevent all of those books, audio tapes and videos where they belong! A handy permanent marker would distinguish bags for many children, giving each child the pleasure of having a designed library bag of their choosing.
I think Upstart has a lot of cool reading supplies to offer. Anything that furthers the child's imagination and hankering to read a book is absolutely going to receive a glowing review from me. Upstart has done a great job providing some great resources, ideas and rewards for young readers and, well, I think they are pretty fun!
Carrie comes by her book obsession honestly, having descended from a long line of bibliophiles. She blogs about books regularly at Reading to Know.