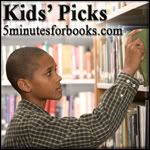 It's time to share what books your kids are picking. I think that we can all attest to some of the gems we've found in this monthly feature, so please share freely about books that your kids have read and enjoyed this month.
Write a blog post and link it up. If you don't have a blog, join in within the comment section below. Then take some time and visit around.
We're here the 2nd Tuesday of each month (barring administrative error which isn't unheard of, ahem). You can also join in What's on Your Nightstand the 4th Tuesday of each month.
Don't miss a thing: Check out our current giveaways. Subscribe to our feed or video reviews on YouTube. Follow us @5M4B on Twitter or on Facebook.
Please link directly to your blog post, and include your children's ages for ease in visiting: