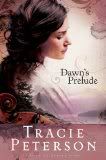 Forced into a harsh marriage at the age of 16, Lydia Sellers is overwhelmed and relieved when her husband dies in an accident. Her stepchildren, who are close to her in age, quickly act to keep Lydia out of their lives and away from the family inheritance. Providentially, a small detail leaves Lydia as the heiress to the fortune.
Lydia's greatest desire is to leave her former life behind, so she quickly packs and heads to Alaska to live with her aunt. Lydia's stepsons, however, will stop at nothing to regain the money they claim as their own, and Lydia is not able to escape her past, no matter how far away she travels.
Dawn's Prelude
is the newest novel by author Tracie Peterson. Lydia's story primarily takes place in Alaska, immediately following the United States' purchase of the territory from Russia, and I found the setting to be fascinating. Of course, during this time, women were considered to be property, and that aspect of the story made my blood pressure rise a bit!
The overall theme of the story, that God works all things (even the bad things) together for good, is one that can't be repeated often enough. Lydia's struggle to overcome the challenges of her past and to put her faith in God is relatable to all of us, and I appreciated the story and the reminder.
Dawn's Prelude
is the first book in the Song of Alaska series. I look forward to reading book two!
Lauren is a wife, a mother of two, and an avid reader. She blogs at Baseballs and Bows.