Margaret Merry is a talented artist and an engaging story teller. She also has something of a romantic background to an American in that she grew up in England and now lives in Spain. It's hard for Americans to grasp the idea of living in different countries. It is quite the foreign concept to us (pardon the pun!) but is intriguing nonetheless. I was excited to get to know Mrs. Merry a bit better through her books and also through her website: www.margaretmerry.com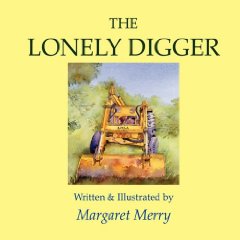 The Lonely Digger
is a story of Lola, who was a digger in a quarry. She did her job well and faithfully but eventually, as the years went by, she got old. Eventually she was removed from the main work area and placed in an out-of-the-way spot on quarry land and was replaced by a new, shinier digger. Lola, alone and neglected, grew very lonely and felt very much alone. She was quite sad, enjoying the company of the occasional animal visitor. She longed to be useful again. She wanted to be remembered, loved and cared for. Eventually a young boy stumbled upon her and is perfectly delighted with the idea of playing with her and fixing her up again. His father agrees to get the supplies necessary to clean her up. In the end, she is not returned to quarry work but instead serves as a playground of sorts for the local village children.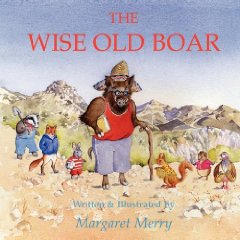 The Wise Old Boar
is the story of Bruno, the boar, who appeared wise to the other animals but was really quite stupid. The only animals that were not fooled by Bruno's facade were the owls, who really were wise, and the eagles who could fly high enough above the earth to observe the various goings-on. The rest of the animals, confused by Bruno's outward appearance of wisdom and pride, came to him regularly for advice. When they asked him about the moon he very solemnly informed them that it was made of cheese. When they wanted to know how to get worms to come to the surface of the ground so that they could dig them up, he told them to get an umbrella and declare it was raining. (Somewhat Pooh like!) Eventually everyone realizes that Bruno is not exactly wise, although he is a hero. How does that happen? Well, you have to read the book of course!
Neither of these storybooks are simple picture books. Each of the above stories are 68 pages long. Although there are pictures on each page, the large majority of the page is covered in writing. I would say that these books are best enjoyed by ages 6 to 12. (Amazon says 9 to 12 but I doubt you'd need to be THAT old.) Being that the stories are about construction trucks and animals, they are sure to capture the imagination of children quite easily. My son is interested in the pictures but at 2 1/2 he's not quite patient enough to sit through the whole story. I would give him another year or so and try again because they really are quite clever and charming. Also, Margaret Merry's illustrations are simply breathtaking. She is a true artist and I really love looking at her work. Again, take a look at her website to get a feel for what you can expect from these two storybooks.
These are wonderful stories that have a classic feel to them. I suspect you will enjoy them if you can get your hands on a copy! Read and enjoy!
Carrie comes by her book obsession honestly, having descended from a long line of bibliophiles. She blogs about books regularly at Reading to Know.