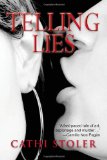 Telling Lies
opens with magazine editor Laurel Imperiole, on vacation in Italy, bumping into a man as she's leaving the Botticelli gallery. It takes a few minutes, but she recognizes him as Jeffrey Sargasso, a man she thought had died 10 years earlier in the Twin Towers on 9-11, the husband of a good friend. Soon, she's convinced others, although that takes some doing. When he disappeared, Sargasso had been brokering a deal between two billionaires for a priceless piece of art—and as such, had the codes to access $15 million. The money was only 10% of the actual price for the painting, which had been missing since WWII. Sargasso's body was never identified.
Laurel, her P-I friend Helen McCorkendale, and her boyfriend Aaron Gerrard (head of the NYPD identity-theft department) begin a desperate hunt to figure out what is going on. Unbeknownst to them, the family of one of the billionaires Sargasso was working with, not to mention a couple of undercover Mossad agents, are already involved in a twisted plot that stretches back to Nazi art theft, medieval Italian societies, schemes to get rich and disappear, and plots to catch a thief.
The action moves back and forth between Italy and New York, as it twists itself into ever tighter mazes. The shady side of the world of art collecting is in full view, as Laurel, Helen and Aaron search for Jeff, the painting, and the money.
Laurel is impulsive and stubborn, and gets herself into some situations that a more level-headed person would have seen coming. She harms her developing relationship with Aaron unnecessarily, accusing him of over-protectiveness when he really is only asking her for a little common sense. There is an underlying theme of untruth, small ones like between Laurel and Aaron, and the big ones surrounding Jeff and his new life, and the painting itself.
My only gripe with the book is the hinge on which the entire plot rests. If I saw someone who reminded me strongly of a friend who had died 10 years earlier but whom I was sure was dead, I would be saddened, but I would not go to the police and involve everyone I knew to chase him down, especially if his hair and eyes were a different colour and he was dressed in a different style. Lots of people remind me of lots of other people, and even a certain mannerism (brushing hair out of eyes) would not convince me. Regardless, this did not spoil the book for me. I had a willing suspension of disbelief, and plunged into the twists and turns with enjoyment.
Telling Lies
is fast-paced and gripping, yet with characters that are well-developed and carry their own story lines well.
Elizabeth likes to think of herself as someone that could hold her own in a fast-paced world of espionage, intrigue, and art. Read more of her delusions at her blog Planet Nomad.