As much as I love to read a second or third novel by an author I know I'll enjoy, there's something about that first seduction of words and characters and literary devices the first time around.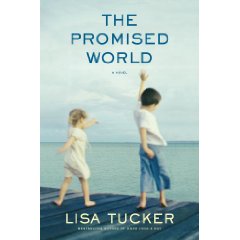 The Promised World introduced me to author Lisa Tucker, and I was pulled in — head over heels; hook, line, and sinker.
This novel is a great example of my made-up genre "character-driven suspense." I enjoy character-driven fiction, and when a story unfolds as beautifully and with such dramatic tension as this one, it's a page-turning combination that can't be beat.
Lila is bereft when her twin brother Billy commits suicide. Her life as she knew it — the promised world of the normal storybook-perfect life that her brother created — begins to unravel. After his death, she finds out things about her brother's homelife that she didn't know. Lila's husband Patrick finds out that she's lied to him about something very important. Flashes of memory come back to haunt her in a confusing way.
This psychological thriller explores the nature of our memories. How do we know if our memories from childhood are accurate? What is the truth of our past: what really happened, or what we remember? Are some things better unknown?
Tucker remains objective as the truth is revealed through narratives from the point of view of Billy's children Pearl and William, his estranged wife Ashley, his sister Lila, her husband Patrick, and his mother Barbara. As crowded as it sounds, it's a seamless narrative, and the different perspectives help the reader put the puzzle together.
The end was slightly unsatisfying to me. The story was wrapped up nicely, but I felt as if there were still questions that I wanted answered and themes that could have been closed, because I had gotten so involved with the characters and the greater issues that I pondered as Lila remembered different circumstances of her upbringing. That said, overall this was a novel that I highly enjoyed reading, in spite of the inescapable thoughts on the dark side of human nature that it inevitably evoked.
Lisa Tucker is an author who I look forward to getting to know better through her past and future novels.

Jennifer Donovan likes getting lost in a good book, but (usually) prefers the surprises that real-life brings over being a slave to the plot of how she imagined life would be. She also blogs at Snapshot.