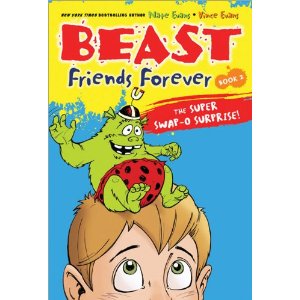 Beast Friends Forever: The Super Swap-O Surprise! is written and illustrated by two brothers, Nate Evans and Vince Evans. I don't know about you, but knowing that just sets the tone for a delightful sort of mischievous read.
This was one of the books that launched Kyle (7) into a very successful summer of reading.
This is the sort of book that is designed to get "reluctant readers" to open up a book instead of flipping an on switch. So yes, it's silly (with chapter titles such as "If you love bananas so much, why don't you marry one?"
Read my full review of The Super Swap-O Surprise at 5 Minutes for Mom, and enter to win the giveaway, too.