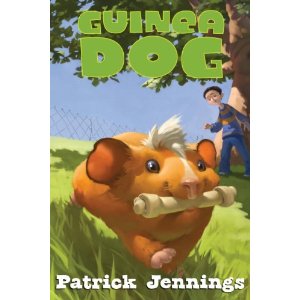 Guinea Dog by Patrick Jennings was a Cybils Middle Grade fiction nominee, but I never got to it. The theme of pets was fairly common in our cache of nominees, because it's a pretty common theme among middle grade students. They all want a pet, and they often don't get what they want.
In Guinea Dog, Rufus wants a dog. His dad says that he will NOT get one. Ever. Rufus' mom surprises him one day with a guinea pig. He can't go to the park with his best friend who has the coolest dog ever with a guinea pig. He doesn't even want to tell his friends about this new pet. He makes the best of it, and names his new pet Fido.
Even though I didn't get to read this book before the deadline of selecting our finalists, I kept it in my pile to read, because it was intriguing — just look at that cover, the guinea pig is fetching! When I saw that it was a suggested read for 2nd or 3rd graders on the list that came home from Kyle's school, I gave it to him to read. I knew that it was a success when he read several (short) chapters in one sitting and laughed aloud as he was reading. When I was with him (reading my own book), he'd read selections aloud to me to share how funny they were. He couldn't wait for me to read it, and told me that we could even use 2 bookmarks if I wanted to start while he was still reading.
This is a great book. It firmly appeals to that 7 – 10 or 11 year old range. The boys in the story are older (10 or 11, I think) so that an older reader won't think it's too babyish, but the chapters are short, the typeface is large, and the book is only 165 pages, meaning it's not a daunting task to undertake for younger or reluctant readers.

Jennifer Donovan is still not over her complete joy that her son is reading this summer, and liking it! She shares other joys and trials of parenthood at her blog Snapshot.