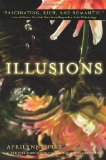 My daughter Amanda and I first read Wings when it first came out. It's the story of 15-year-old Laurel in the year that her life changes a lot: she goes from being homeschooled to public high school, and oh yeah, after she sprouts a blossom on her back, she finds out that she's actually a faery.
We somehow missed the second book, Spells, but when we found out that the third book Illusions was coming out, we quickly caught up.
I had not re-read Wings in the last 2 years, but Amanda had. I didn't have any trouble picking up Spells, which takes Laurel from the California setting to spell school in Avalon. Amanda found this to be the weakest of the 3, but I disagree. It was probably the least romantic, so that might be why.
However, in Illusions the love triangle heats right back up when Tamani enters the high school as a "foreign exchange student." Laurel is also able to take her new-found faery spell-making knowledge in hand to try and battle the trolls which are still a concern, with the added threat of another new student who they fear might be on to them (or one of them!).
Here are Amanda's thoughts and more plot details about Illusions:
This book is one of the 7 in Harper Teen's Dark Days of Supernatural releases. If you click through the link, you can enter to win all 7 books. The giveaway closes June 15.
Jennifer Donovan has no affinity towards vampires, but has become quite intrigued with faery lore after reading more than a few YA novels exploring the genre. She blogs at Snapshot.