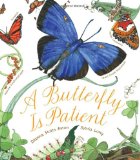 Butterflies may arguably be the most beloved insect by kids, though they're often too elusive in nature for children to get a really close look. With Sylvia Long's highly realistic illustrations in A Butterfly is Patient, young readers can look for as long as they'd like without the fear of one flying away!
The vibrant illustrations depict all four stages of a butterfly's life cycle, for many different varieties of butterflies, too. Don't skip over the endpages on this one (those pages before and after the main part of the book), for there's a lot of fun to be had in trying to match up the caterpillars shown in the front to the butterflies pictured in the back. The text of the book, written by Dianna Hutts Aston, gives life to the many aspects of butterfly development- from the caterpillar tasks of eating and growing, to the poisonous nature of some butterflies as a defense against predators who might try to eat them. The combination of interesting and engaging written content with gorgeous watercolor illustrations makes this a fabulous resource and pleasure book for kids.
I'm happy to add A Butterfly is Patient to my children's collection of insect books, to be read when we're seeking answers or just when we want to immerse ourselves in some butterfly beauty.
For even more great buggy books, please read my review of How Things Work in the Yard and Bugs by the Numbers over on 5 Minutes for Mom today, complete with giveaway for those two titles.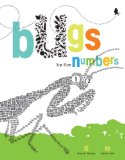 Every spring and summer, Dawn is excited to share her enthusiasm for insects with her curious kids. Their adventures are chronicled on her blog, my thoughts exactly.