Kyle saw me write my first title of this post, "Activity Books to Keep Brains On and Mouths Quiet," and he said, "No. Don't save. I don't like that title!" I think he knew that his mouth was the one in question that I hoped would be kept quiet in the hours we spend in the confined space of our car. I asked what he suggested, and he said "Activity Books that Your Kid Will Never Forget." I decided to keep it more general, because I do love a good activity book for on-the-go fun (and keeping little mouths quiet while their brains are occupied).
We have taken road trips each of the last three summers. I love to stock up on books and activities that can help keep peace and quiet without relying 100% on DVD watching and hand held gaming devices. In fact, I would say that I allow less than 30% of their time spent with these activities.
Assuming your kids don't get motion sick in the car and have to avoid reading materials — which thankfully none of my kids or I do — car time is an excellent time to encourage reading and other activities.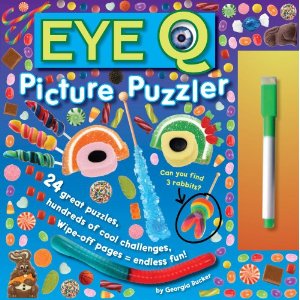 Eye Q Picture Puzzler is such an awesome book. So much so that I couldn't save it for our upcoming trip. This book entertained my 7-year-old son all spring as we drove to and from church events, sports practices, band concerts and the like.
Each page is grouped by subject, including fun kid-friendly themes such as bugs, desserts, pets. There are several questions on each page that guide the child in activities to search and circle (such as "Which 3 don't belong?"). Because you use a dry-erase marker on a wipe-off page, it's not consumable.
It's explicitly suggested that a "creative parent" could provide even more activities. For example, one page that features bugs would tell the child to find things that don't belong, or find the bugs that would blend into a leaf. A parent could then direct from the front seat (or beside the child at the table) to find the biggest or the smallest or whatever. I've also seen Kyle use his own creativity, giving the book to his sister and asking her to circle her 3 favorite desserts on the page.
I love the dry erase marker included with a built-in eraser on the lid. The marker holder is secure, which is important in this kind of book and not always a given.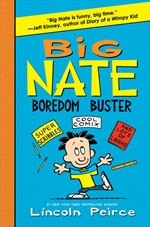 Kyle was excited about Big Nate Boredom Buster: Super Scribbles, Cool Comix, and Lots of Laughs, but he's not quite old enough for it. For one thing, beyond reading some of the original comics in the newspaper, he hasn't read the Big Nate books. This activity book is really for fans who are familiar with Big Nate, and for that market, I think that this is an excellent book. The books appeal to reluctant readers, because they might relate to Nate who doesn't always excel at school, but does excel at getting in trouble.
Even though this book is an activity book, there's lots of reading to be done on the pages. The activities basically build on the reader's knowledge of Nate or his ability to identify with him, such as completing a doodle, making your own comic, and lots of list-making: making words from another word (like detention), listing your favorite food and words that describe it, make-your-own comics, decoding activities and more.
One thing I found odd about this book is that it's a hardcover book. Is it just me, or is the act of writing in a hardcover book sort of hard to do? It just seems like the long-lasting sturdiness that a hardcover book offers is unnecessary in a consumable item. On the positive, if your child is a collector, it does match the style of Big Nate: In a Class By Himself in hardcover. Also, at the time this published, amazon's price on the hardcover was the same as a paperback would have been.
I recommend this book for Big Nate fans who are at least 8 or 9 years old — and up definitely. Since most of the activities are creative, an older child or a younger one could each express himself in an appropriate way.

Jennifer Donovan has become a fan of the road trip. She looks forward to her trip to the Grand Canyon this summer, which she has good intentions of covering on her blog Snapshot.