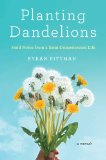 I have to admit that I'm a sucker for parenting memoirs, preferring the kinds that tell it like it is. Feeling a connection with an author becomes inevitable when she ventures into extremely personal territory and hits eerily close to home. In her new memoir, Planting Dandelions: Field Notes from a Semi-Domesticated Life, Kyran Pittman tackles the usual topics including romantic relationships, parenting young children and the state of married sex, but she does so with a level of unflinching overtness and deep-gut honesty that left me simultaneously awed and validated.
While some memoirs follow a strict chronological presentation, Pittman opts instead for individual essays as each chapter that work together to eventually paint a full picture of the earliest stages of her relationship with her husband-to-be, the arrival of three sons over the years, and the experiences she has in the role of mom for almost a decade. It's undeniable that she adores this role, even as she admits that her personal history didn't give any indications to this outcome. However, she deftly balances expressing her joys with complete honesty about the lows, as well.
Take the section where she addresses her status as a stay-at-home mom while her husband is employed in an office setting. My highlighter came out in full force on this passage:
It was my choice to stay at home with our children during the early years, and I wouldn't have traded it for whatever middle-income wage I could have earned at the time. Notwithstanding real financial sacrifice, I was lucky to have the choice, and I knew it. But choosing to be at home didn't waive my right to resent the hell out of it sometimes, especially when Patrick came home from his day at the office with the feeling that he was entitled to relax. His working hours were clearly delineated, whereas I was on call 24/7. On the other hand, it wasn't as if I was tied to a desk all day, every day. I could take my work to the park. My clients were the people I loved most in the world, even if they couldn't wipe their own noses. My colleagues were my best girlfriends. There were no common denominators to form the basis of an objective comparison between our workloads, just vague jealousies that erupted periodically into open recriminations.
This insightful and painfully honest set of essays about parenting, marriage and passing out of your 20s and 30s is pitch perfect. Self-deprecation is at play along with a huge dose of humor, but nothing falls flat or feels contrived. Exactly the opposite- everything here feels authentic and genuine, and it's easy to imagine how challenging it must have been for Pittman to write some of these pieces. Several passages hit so very close to home that I felt the tightness in my throat before I realized that a tear or two had already slipped out. Planting Dandelions has become my new most recommended parenting memoir.
Dawn often wishes she could express her own observations about married life and parenthood more coherently, so instead she enjoys living vicariously through the memoir section of the bookstore. Her own stories are told on her blog, my thoughts exactly.