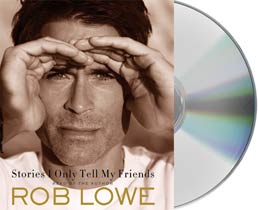 I was a teen in the 80's, so of course I'm a fan of St. Elmos Fire. The West Wing is probably my favorite show of all time. So though I'm not generally a fan of the celebrity memoir, when I saw the buzz about Rob Lowe's new book, and saw that he had even read the audiobook himself, I was sold.
And honestly, I'm glad that "Rob Lowe" attracted me to Stories I Only Tell My Friends, because it's such an interesting look at how he pursued an acting career and trained himself by choosing to work with experienced directors and learning all he could from them. This is not your typical celebrity fluff or slam book.
The memories Lowe shares run the gamut from soul-plumbing honesty, specifically in regard to his parents' divorce or his choice to get sober, to a more removed type of story — one that you would indeed tell your friends or trot out in a social situation where you were meeting new people.
He writes about following his dreams to be an actor, realized after seeing community theater at the age of 10 or so in Dayton, Ohio. From that time on, he persevered, doing whatever it takes, and making some bold moves. Though this book is not really appropriate for kids, it still spoke to me as a parent about encouraging my children to follow their dreams whatever they may be.
I would have been disappointed if this book did not also include insider information about the people he's known and the projects he's been a part of, and he delivers. He gave especially detailed information about working on the Outsiders, his first big movie, with the cast of young actors – Emilio Estevez, Rob Dillon, Tom Cruise, and C. Thomas Howell – and the acclaimed director Francis Ford Coppola.
By the time he was just 21 years old, he had starred in a handful of movies and was getting a lot of attention. It stands to reason that by 30, he felt burned out and as if he had experienced life beyond his years. He felt the need to settle down, but knew he couldn't do it with the fast and loose lifestyle he was living, so he went to a rehab center and emerged clean and sober.
Rob Lowe is not just another pretty face (not just, but c'mon…. ) He's an actor who takes his craft seriously, whether playing "Number Two" in the Austin Powers' movies, or the more dramatic Golden Globe Award Winning role of Sam Seaborn on the West Wing.
With Stories I Only Tell My Friends he also proves himself a skilled writer, knowing just when to hold back germane information in a story to provide a dramatic punch at the end. This book truly surprised me. I knew I'd enjoy it, but I wasn't counting on how much.
If you are a fan of Rob Lowe's movies or are curious about that rise to icon status of the "Brat Pack" back in the 80's, you don't want to miss this book. If you are curious about the making of movies and the professional life of any actor, you also need to read this book.
AUDIO NOTES:
Hearing the author share personal stories in his or her own voice generally adds to the experience (Elizabeth Gilbert did an excellent job with Eat Pray Love). This is no different, especially when that voice is Rob Lowe (I never claimed that I was a fan only because of his acting ability!). While at first the reading seemed a bit stilted, he either relaxed into it as the discs progressed, or I came to recognize it as his own unique speaking style. Either way, I'm glad I listened to this in this way.
******
Susan over at 5 Minutes for Mom has just discovered audiobooks as well! Check out her reviews of this book and Tina Fey's new memoir as well over at 5 Minutes for Mom.
Jennifer Donovan blogs about books, parenting, and the stories she tells her friends over at Snapshot.