I well remember that fateful day when I stared in disbelief at the home pregnancy test, the small pink line indicating a positive result. Although I had always known I wanted to have kids, although I'd been married 4 years at that point, I was still petrified. Surely I wasn't really grown-up enough to be a parent! As is my wont, I turned to books to sort through the complex emotions I was feeling at the time.
I suspect my experience wasn't uncommon. As we celebrate Mother's Day today, what are some books that have shaped how you think of motherhood, or how you approach it yourself? It could be a memoir, a novel, or an actual parenting book. Following are some books we thought of:
ELIZABETH
I read Unless: A Novel (P.S.)
a couple of years ago, coincidentally just after a close friend of mine had dealt with a daughter who had gone off the deep end, freaked out. I had walked through this with her, saw first-hand the pain it caused her. Unless: A Novel
tells the story of a happy well-adjusted family, dealing with the fact that one daughter has gone off the deep end, freaked out, and now chooses to spend her days sitting on a street corner downtown holding a sign that says "Goodness." What happened? The mother tries and tries to figure it out, and comes up with some fairly wild explanations. She tries to connect with her daughter but is rebuffed, and she spends a fair amount of time remembering her children's young childhood. Overall, a great book, and really well-written, and not nearly as depressing as I've made it sound.
The Joy Luck Club
is a wonderful story of interactions between mothers and daughters, the mothers all first-generation immigrants from China, the daughters all second-generation, straddling two worlds. This element only complicates further the mother-daughter relationships. Probably everyone's read this one, but it deserves a mention.
Rainbow Garden
is probably a middle-grade reader, and it's a book I read and reread as a child. I love the adults in it and I want to be them when I grow up. Well, not all the adults, but the Owen family in North Wales, where Elaine gets sent to stay when her own mother gets a new job that entails a lot of traveling. From reading the reviews on amazon, apparently they've come out with a new, dumbed-down edition that no-one's really happy with except the publishers. Find a used edition and read it with your kids, grandkids, nieces and nephews, or random elementary-aged children in your neighbourhood.
JENNIFER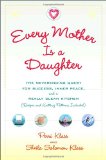 Being a mother has made me think in a much different way about my relationship with my own mother. I see her good habits coming through as I parent my kids (being fun and also very supportive), but I also see the bad habits (like become too easily frustrated and yelling, and taking that fun to an extreme that the children might interpret as being made fun of). Perri Klass and her mother Sheila Klass wrote a memoir together that addresses their similarities and differences, partly due to personality and partly due to generational change. Every Mother Is a Daughter: The Neverending Quest for Success, Inner Peace, and a Really Clean Kitchen is funny, irreverent, honest — in short, it's just truly wonderful. Perri Klass writes about mothering her own kids but also her relationship with her mother in general, which has changed since her father's death. Sheila writes about being an independent aging mother, and even looks back in her past to share memories of her own mother in yet another generation. I listened to this as an audiobook from audible.com, and it was lovely, with each woman's voice being represented by her own narrator. I liked it so much that I purchased the "real book" as well. I noticed that it's now available on Kindle as well. If you are a mother, or a daughter, this candid memoir will touch you in so many ways.
Another book that defined me as a motherhood in those early months, as the birth of my children literally transformed me from "regular woman" to "woman in charge of keeping another being alive" is Gary Ezzo's On Becoming Baby Wise: Giving Your Infant the Gift of Nighttime Sleep. Oh my is it controversial, but establishing regular feeding, which led to regular predictable and independently realized sleep patterns — both day and night — made me a happy healthy mom, and definitely worked for my kids. I am not an extreme person, so I took what worked for me, but I love the results.
LAUREN
When my children were toddlers, I realized very quickly that they weren't going to follow along happily with whatever I wanted them to do. I became conscious of their behavior, and I wanted to train them to behave appropriately. Tedd Tripp's Shepherding a Child's Heart
, along with guidance from a godly woman at my church, completely changed my perspective. Yes, I want my children to behave, but much more importantly, I want their behavior to stem from a good heart. Shepherding a Child's Heart
is one of the most Biblically-based parenting books I have ever read. It has earned a permanent place on my shelf, and I recommend it to all Christian mothers.
Another book that shaped my parenting is The Five Love Languages of Children
. As I am sure happens in most families, my children are completely different. They express love in different ways and desire love in different ways as well. The Five Love Languages of Children
helped me to understand my children's needs and helped me to show affection in ways that are meaningful to them. I highly recommend this book to all parents (and I recommend the original 5 Love Languages
as well).
The 5 Minutes for Books team enjoys sharing book reviews, recommendations, and the role that books have played in our lives. What books inspired, influenced or affected you as a mother?