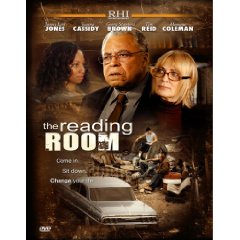 When I read the description for The Reading Room, I was immediately intrigued. Of course, the title piqued my curiosity. And James Earl Jones…well, I was sold. Even though it's not based on a book, I wanted to share it with you because it's (obviously) about reading.
This film was made for television in 2005 and is now available on DVD. Jones plays William Campbell, a retired businessman and recent widower. His wife's last request is that he use their personal library to open a reading room in the inner city. His devotion to his wife is the only thing that motivates him to honor her wish, even though he doesn't understand it. As you might imagine, the neighborhood is less than welcoming.
Aside from a somewhat predictable plot line (and obvious commercial breaks), it's an enjoyable story that demonstrates how reading and education can divide us, but also bring us together. If you're looking for an entertaining and thought-provoking night in, The Reading Room is certainly a good choice.
Melissa has been captivated by books for as long as she can remember. She resides in Virginia and blogs at Breath of Life.