I was never much of a princess as a little girl. I wasn't quite a tomboy, but I didn't really care for frilly or pink. My daughter, on the other hand, has loved all things girly since birth. While she can get dirty and play hard, she prefers to do it while wearing a pretty dress and jewelry. I enjoy watching this aspect of her personality with some amazement (because I know it didn't come from me), and I am sure she sometimes wonders how she ended up with such a plain mom. And while I don't mind at all that she enjoys fancy things, I want her to understand that true beauty comes from the inside.
In her new book, Sheila Walsh writes to young girls about being God's princess. How to Be God's Little Princess: Royal Tips on Manners and Etiquette for Girls . . . .

(Continue reading my full review at 5 Minutes for Mom)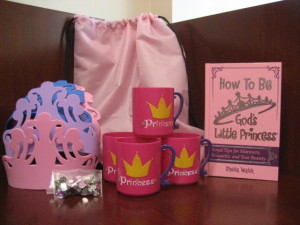 We have one copy of this book to giveaway, along with a pink drawstring bag filled with a crown craft activity and some princess mugs.
Please click through and read my full review at 5 Minutes for Mom, and leave a comment on that post if you'd like to win. We'll announce the winner over there on May 9.
Lauren is a wife, mother of one prince and one princess, and an avid reader. She blogs at Baseballs and Bows.
Comments are closed here to remind you to comment/enter on the post at 5 Minutes for Mom.