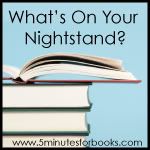 Has the warmer weather filled up your days and stolen away your reading time, or has all the extra time at the sports fields and shutting kids around resulted in a little bit of extra time to read?
Have you made a plan for this month?
We'd love for you to share your recent reading triumphs with us, or a plan for the next month. Weather you're working through one book or hope to finish 4, we want to hear about it!
Check out our current giveaways. Subscribe to our feed. Follow us @5M4B on Twitter or on Facebook or YouTube.