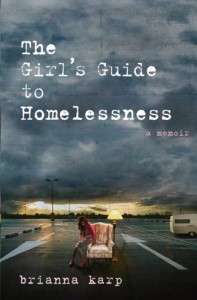 In February of 2009, Brianna Karp lost her job, found out her estranged father had committed suicide, and her boyfriend broke up with her for good. These events, along with a lifetime of a dysfunctional and abusive relationship with her parents and the Jehovah's Witness kingdom, factored into the many circumstances that resulted in her becoming one of the many homeless in America, living in an old trailer with no electric hookups in a Wal Mart parking lot.
The Girl's Guide to Homelessness is a memoir that Brianna Karp wrote while she was homeless. She actually kept a blog with the same name, but this book doesn't read like a blog, as I feared it might, since I've read other projects like this that ended up feeling like a transcribed blog.
I haven't tried to find out "what happened next," because the memoir ends while she's still in that state, and for this memoir, it fit. Many memoirs that deal with a change tend to lack the fairy tale ending — people who are battling addiction often relapse, marriages in recovery tend to falter, people seeking restoration with family aren't always successful. That's because memoir is real and change is a process. In this case, we follow Brianna for a year as she tries to get back on her feet. We want her to succeed. She gets almost there, and yet towards the end, she receives a crushing blow that hinders her goal.
If you like memoir, this has all the high points — a couple bouts of TMI about her intimate life, overcoming her past and separating from her family of origin, bad choices — but most importantly a strong sense of perseverance. It also serves, as good memoir does in my opinion, to give the reader insight into struggles that the author faced — not only homelessness, but also being raised in Jehovah's Witness religion.
You might be asking, "She wrote the book while she was homeless, and kept a blog?? How??" or "Living in a trailer? That's not homeless!" Check out my video review for more thoughts on this angle of the memoir:
I'm happy that we have a copy to give away to one of you (U.S. and Canadian residents). Just leave a comment here and we'll announce the winner on May 11. The giveaway is closed.
Check out our current giveaways. Subscribe to our feed. Follow us @5M4B on Twitter or on Facebook.

Jennifer Donovan is a bit of a skeptic when it comes to street beggars, but she prays for compassion and empathy so that she can respond to those in need. Find out about more of her issues by reading her blog Snapshot.