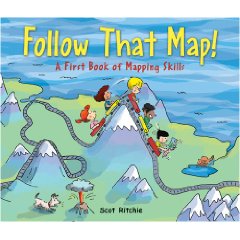 Follow That Map!: A First Book of Mapping Skills by Scot Ritchie is an entertaining and educational book that young map enthusiasts will enjoy.
Kyle has always enjoyed maps. Watching the screen of the GPS system in my husband's car helps him endure car trips and hones his understanding of navigation (Seriously, if I got lost, I think that this five-year-old kid could help me out of a bind).
This Kids Can Press book contains all of the essentials as well as some advanced cartography terms (well, advanced for a young child):
How to read a map
Different types of maps (including of course, the treasure map!)
Directions for creating your own map
Each two-page spread contains a map that engages the reader in some way: asking a question about the particulars of that map or simply allowing the young user to find the different items marked in the legend.
There is also a story amidst the maps. A group of friends are at Sally's house, when they notice that Max the dog and Ollie the cat are missing. The five friends start the adventure in Sally's yard. Their maps (and their imaginations) take them from country settings, to a city street map, to outer space, before they end up at the end of the day in her room.

Managing editor Jennifer Donovan blogs about life with her family at Snapshot.