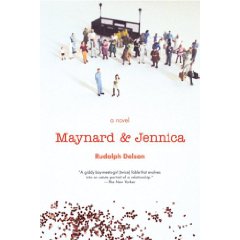 New York City is an entity to itself. It might be argued that LA and DC are as well, but NYC transcends them in her ability to add to a work of art — to appear as another character (think Seinfeld or When Harry Met Sally).
Maynard and Jennica is a New York kind of book. In fact, since this is a story told by a cast of characters, it might be argued that New York City is the main character.
When I started reading this book, I loved it. I thought it was really delightful. Smart. Funny. A little intellectual using unheard-of words like prestidigitation and scenes such as this, when Maynard first sees Jennica on the subway (how New York can you get?):
"You step onto the subway. . . and there she is! Do you say something, or do you say nothing? Dignity world seem — dilemmatically — to require both and yet permit neither" (page 15).
It may be a bit too wordy for some, but once you get into the flow, it works.
The story of these two are told via short entries from different characters: the protagonists, their parents, siblings, friends, random strangers who observe the scenes. I found it to be interesting and original, though some may not like this breech of traditional novel format. It's sort of a like a mock-umentary.
So, as I said — when I started it, loved it. The first 2/3 of the book was really fresh, original and laugh-out-loud funny. But the tone changed in the last third, becoming more cynical and losing focus.
In all, I'm glad I read it, and I'd still recommend it to people who like smart original novels, but I wish that it had kept up the pace set at the beginning.
Managing Editor Jennifer Donovan loves to read. She especially love summer when she can sit on the front porch or back deck or in the passenger seat of the car on a long trip and read to her heart's content.
This review is linked up to Semicolon's Saturday Review of Books. Link up your own review, or just see what everyone in the blogosphere is reading.