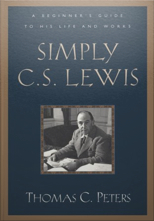 Never read anything by C.S. Lewis and aren't really sure where to start? You might want to think about picking up Simply C. S. Lewis
: A Beginner's Guide to the Life and Works of C. S. Lewis. This book, published by Crossway Books, introduces C.S. Lewis – the man, the belief and the writings – very well. Author Thomas C. Peters simplifies Lewis to give the unfamiliar a chance to get to know Lewis a little better. I appreciated the way that he took the time to explain the social/political/global situation that Lewis was born into to better explain the belief systems that Lewis would have been familiar with and how he addressed things as a whole.
Peters then proceeds to give a brief synopsis of Lewis' various writings from The Chronicles of Narnia
to Till We Have Faces.
Peters give a great overview, that is easy to understand, to a great man and his works. I highly recommend this book if you want to get to know C.S. Lewis a little better and perhaps are not as friendly with his books as you might like to be.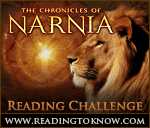 Speaking of getting to know Lewis' books and stories, I'm hosting a Chronicles of Narnia Reading Challenge over at Reading to Know precisely for the purpose of spending some time in the land of Narnia. If you've only read part of the series, or perhaps have not read it at all – now is a great time to read along with others and learn what you can about the magical world of Narnia. I invite you to read one book or the whole Narnia series! You can decide how much or how little you want to explore. Looking for a new Read Aloud with your kids to kick start your summer? Think about joining in the Narnia Reading Challenge which starts June 19.
I hope you'll consider the challenge, mostly because I think there is great value in Lewis' writing. He writes intelligently and makes his readers think, while at the same time he delights them to pieces with his imagination. Lewis was a brilliant man and I'd encourage you to pick up something that is his and enjoy it. Whatever you pick up will no doubt stretch you, encourage you, make you think and cause you to dream. He was a master storyteller. I hope you'll give him some of your time.
Carrie comes by her book obsession honestly, having descended from a long line of bibliophiles. She blogs about books regularly at Reading to Know.