Well, maybe not everything (you'll have to stick around longer to get to know us intimately), but in honor of the Ultimate Blog Party, I thought I'd give a run-down about our site. Even those of you who are regular readers might find out something you don't know about our site.

First thing that everyone needs to know is that I, Jennifer, am not a one-man (woman) show. No way. This blog would not be nearly as interesting if I was (not to mention the fact that I would definitely not post 7 – 10 times a week!). I truly think it's what makes our site stand out as a book review blog. You can read a little bit about each member of our team — Lauren, Dawn, Nancy, and Elizabeth — at our Reviewer Bios page, where you'll find out what we like to read and how to find our personal blogs.
Thanks for Stopping By
I know that most of you are party-hopping and don't have much time, so if you like what you see, the best way to keep up with us is to subscribe.
Pick your favorite way(s) to stay connected by clicking the icons below: twitter, facebook, feedreader, or via email inbox:

All Kinds of Reviews for All Ages
A big team made up of women who all love to read, but all love to read different kinds of books means we can cover lots of genres. Any given month you'll find the following reviews just for you:
We review children's books too, and between the 5 of us, we have kids ranging from 3 years old to 15 — boys, girls, reluctant readers and bookworms — so we can give expert advice and recommendations mom to mom.
How to Find what You're Looking For
Because we post on such a broad variety of topics, we know that you might just pick and choose which reviews you read, and that's great. Want to know how to find more of what you do like? You can click on the picture to the right of the reviewer who you feel best represents your reading tastes to get to the page of all her recent reviews. You can do the same thing by clicking on her name in the category labels right above the comment box, and below the author box. If you're reading a memoir review, the memoir label will also be linked and you can click it to find more memoir reviews.
You can get to the same place — pulling up books by category — by scrolling down to the archives by category at the bottom of the sidebar.
You can also use our search box to search for specific titles or authors. It works really well — give it a try! That's such an important feature, it's at the very top of the right sidebar.
Community, Giveaways, and Recommendations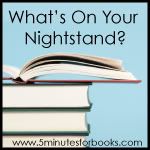 Like our mama, 5 Minutes for Mom, we seek to provide a place of community. We want to give other book-loving bloggers a place to connect. The main way we do that is by hosting What's on Your Nightstand. On the 4th Tuesday of every month, we invite you to share a little bit about what you're reading. You can either give some mini-reviews (or link back to your posted reviews) of books you finished in the last month, or you can make a reading plan, sharing the books that you plan to make time for over the next month.
We also host at least one book giveaway a week here on Wednesdays and one each Monday in our book column at 5 Minutes for Mom. We almost always have at least 4 book giveaways current on any given day.
Another way we seek to create community is by inviting you to post. We love to have guest contributors for our On Reading column (essays about reading) and Books on Screen (reviews of movies based on books). We also have a brand new column where we will invite those who have won books to be featured, called The Winners' Circle.
Find out how to submit your column at our Join In page.
In addition to recommending books that we think you'll like, we also believe that books made great gifts. So when you're looking for a hostess gift, or a teacher's gift, or something for any bookloving friend, check out posts specifically marked with the gift ideas label.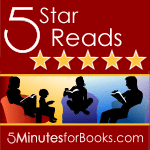 And whether you want to make the most of your time by guaranteeing a book you'll love or you're trying to pick out the perfect book for a family member (of any age), keep your eye on our 5 Star Reads page. Each book that earns our best recommendation will be tagged as a 5 Star Read and added to the page. To make it easy, we also feature the most recently reviewed 5 Star Reads right on the sidebar.
Now We Want to Hear From You
If you're a regular reader — we are so glad to have you. We never take you for granted! Can you take a minute to let us know your thoughts? What do you enjoy about our site? What would you like to see more of? Less of?
If you are new here — welcome! We'd love for you to leave us a comment to let us know you stopped by. If you want to tell us what kinds of book reviews you'd like to see, that would be great!
Do you want to show that you love books too? Put our button in your sidebar: