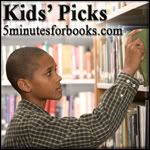 Have I said it before? I have? Well, it bears repeating: I love this monthly carnival most of all.
Seriously — I never come away without a recommendation for a new picture book or easy reader to try out with Kyle or a novel that I can recommend to Amanda. So thanks for sharing the books that your children enjoy.
I've been following the School Library Journal's kidlit blogger Elizabeth Bird A Fuse #8 Production as she counts down the Top 100 Picture Books (linked to the complete list). I thought it fit well here, because the list was created based on write-in surveys, so they are the ultimate Kid Picks (even though I'm sure that most of the ballots were cast by those who are strictly young at heart). If you look over the list, I'm sure that you will be able to fill your bookbag on your next trip to the library with no trouble at all. There were several new-to-me titles, and I'm sure that you'll find some unknown surprises as well.
So–let's get talking. What did your kids enjoy reading (or hearing) this month? Please leave the ages of the children making the recommendation when you link up your post, for ease in exploring the other posts.
If you don't have a blog (or you don't want to write up a separate blog post), please participate by leaving your recommendations in the comments.
Read previous Kids' Picks posts.
Subscribe to our feed.
Follow us @5M4B on Twitter.
Join us each Tuesday (find out more info on all regular community events at the Join In link):

May 26 — What's on Your Nightstand
June 2 — Everyone is Beautiful — Bookclub
June 9 — Children's Classics — Poetry
August 4 — Classics Bookclub — Rebecca by Daphne Du Maurier
(There's supposed to be a Linky here, and I'm going to assume that Mr. Linky will not have technical difficulties. If you don't see one here, my assumption was wrong).