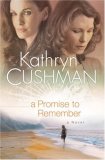 Andie Phelps could not put the brush to the canvas. The blue paint seemed wrong now on the sable bristles. Brightness could not cover the dark, the darkness was too strong. Just like her sorrow and pain. Brightness and light were nothing more than lies.

Still, Chad had asked this of her. This one thing. By accomplishing this task, she would honor her son's memory.
Thus begins A Promise to Remember by Kathryn Cushman.
I was drawn in from the first paragraphs.
We first meet Andie a couple of weeks after her only son, Chad, was killed in a car accident. The other driver, teenager Jeff Johnston, is also dead. Although the boys lived in the same town, the families' lives are worlds apart. Andie and her husband, Blair, are members of Santa Barbara's elite. They live in a gated community, attend a palatial church, and are generous donors to worthy causes. Jeff's mother, Melanie, is a single mom who works at a grocery store to support her teenage children. Jeff and his sister, Sarah, are active in church, but Melanie is not.
The tragedy affects both families in distinct ways. An already fragile marriage nearly collapses under the weight of guilt, grief and anger both Andie and Blair feel. Melanie is consumed by her pursuit of justice, and her need to make Andie and Blair pay for Chad's mistakes. She files a lawsuit against the couple, which sets off a chain reaction of events that neither woman can control. At the heart of the story is the spiritual struggle that Andie, Blair and Melanie all face. After all, how can you trust a God who allows your young son to die? How do you forgive? How do you ask for forgiveness?
A Promise to Remember is not a light read. My heart ached for Melanie, who was compelled to visit the cemetery every day because she was afraid Jeff was lonely and because she'd made a promise never to abandon her children. I longed to comfort Andie, who was drowning in guilt that she wasn't a good enough wife and mother. The ending isn't "happy", though I was at peace with it. Still, I was left wondering how both families would move on after surviving such loss. I thought of friends who've lost children, and grieved anew for them.
This soul-stirring novel will stay with me for a long time.
Melissa has been captivated by books for as long as she can remember. She resides in Virginia and at Breath of Life.