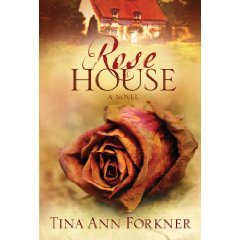 This is the second book I've read by Tina Ann Forkner. I reviewed Ruby Among Us when it first came out last summer, and I loved it. It was a fairly easy read, but not fluffy. I enjoyed watching the characters learn and grow as the story progressed.
Imagine my surprise when Kitty popped up on the first few pages of The Rose House. She was one main characters in Ruby Among Us, and here she is several years later in this novel. It surprised me, and it seemed out of place.
Have you ever been on vacation and run into an acquaintance from home? It was like that. Once I got over the shock, I was delighted to "see" Kitty in this book. The setting was the same as well, so I began to feel as if I was reacquainting myself with this author.
This book is certainly not a sequel — the characters (except for two) are completely different, and as I mentioned in my review, I found the style to be a little bit different as well — a little more romance and a little more mystery (I posted a full review of Rose House on Monday at our weekly column at 5 Minutes for Mom, so please click on over to get the full scoop.).
So how do you feel when that happens? Do you like it? Does it mess you up and confuse you? You can jump into the conversation AND enter to win one of two copies (U.S. and Canadian addresses are eligible to win), by answering one of these two questions:
Did you read Ruby Among Us? If so — did you like it?

or

What are your thoughts about recurring characters that float in and out of books that are not part of a series?
You can also just say "enter me," but isn't a discussion about books a lot more fun?
We'll announce the winners on May 20.
I wanted to point out that I did tag this as a "Christian" book, but had it not been published by a Christian publishing house, I would not have put it in that category. So, regardless of your religious preference, if you are looking for a good clean read, try out Tina Ann Forkner's works.
The winner of the Allie Fortune Mysteries (which Carrie actually described in the same way to me — good clean reads) are #8 Carol M, and #3 edj.

If you didn't receive the email from me, you have one week to send your shipping info to us at 5minutesforbooksATgmailDOTcom.
Managing Editor Jennifer Donovan also blogs at Snapshot about life with her tween daughter and preschool son.