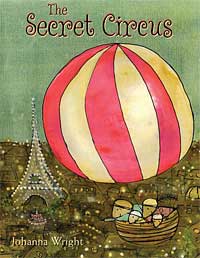 This is a fantastic book about a magical, little, and not-very-well-known secret circus. The only ones who know about it are the mice. Somewhere, in the City of Paris, is a circus that only the mice know how to get to. They are the only ones who know where it is hidden. They are the only ones who know how to find it. They are the only ones who know how to truly enjoy it.
The Secret Circus
is magical, cute and simplistic in that there aren't many words on a page or too many concepts to grasp. I'd probably peg this book to be at the reading level of a two year old. The artwork, however, expands the reader's age. Written and illustrated by Johanna Wright, the pictures add just about as much to the story as the actual words do. It's really hard for me to try to describe it. The line drawing of the mice are almost simplistic in nature and yet the paints and colors used to bring the mice alive add so much complexity to the picture. The colors that Wright chooses to illustrate with give the book an old world field, while still lending to the felling of circus lights and acts. It's just a, well, uh, a perfect blend of words and colors which make this book feel like you are curling up with a delicious sort of secret that you mean only to keep to yourself.
I highly recommend this book. It's a gem!
Carrie comes by her book obsession honestly, having descended from a long line of bibliophiles. She blogs about books regularly at Reading to Know.