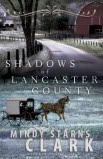 I have never visited Amish country. From the books I have read, I imagine it to be a serene and peaceful place: fresh air, horses, farms, and delicious home-cooked meals. In Mindy Starns Clark's new novel Shadows of Lancaster County
, however, serenity gives way to secrets, suspense, and murder; and the citizens of Lancaster County are scrambling to find answers.
In the center of it all is Anna Bailey, a young woman who thought she left tragedy behind when she moved from her Pennsylvania home to California. When Anna's brother disappears and an attacker breaks into her home, Anna returns to Pennsylvania to search for answers. She arrives to find that problems are multiplying, and she quickly realizes that she can't escape her past. Anna knows she can rely on God, but finding trustworthy people proves to be a difficult challenge.
Mindy Starns Clark offers a thrilling tale filled with twists and turns that will keep you guessing and have you rooting for Anna to find answers for the present and forgiveness for the past (for herself and others). If she can resolve both, Anna has a chance to move ahead with her future.
If you had told me an author could successfully weave together a story including the Amish, DNA, French and German history, and famous jewelry, I would have been skeptical, but Mindy Starns Clark pulls it off with Shadows of Lancaster County
. If you enjoy fast-paced stories with uplifting messages, be sure to read this new work by a talented author. I am sure you will enjoy it as much as I did.
Lauren is a wife, a mother of two, and an avid reader. She blogs at Baseballs and Bows.