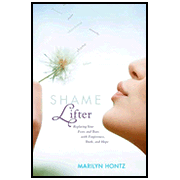 A lot of self-help books focus on a variety of individuals and their personal struggles. Not so with Shame Lifter
. Author Marilyn Hontz uses her own life experiences to show how she was once a shame receiver who finally realized that she needed some help with shame lifting.
To be perfectly honest, I didn't think I needed to read this book. I just wanted to. I am, generally speaking, a very confident person. I typically have enough self-esteem to go around and share with, oh, say, about half a dozen other women. I don't generally think ill of myself. However, I did find an area where I generally talk down to myself when I was reading this book. I wasn't really surprised about the area of degradation but I was surprised to find that I really DID need this book. Furthermore, I'd go so far as to say that just about every woman does.
Hontz has a life story that I find a bit pitiable. Her mother died when she was 15 years old and she was raised by a generally neglectful father. If you can even go so far as to say that he raised her. She also had a life secret that she carried with her from a very young age that caused her to think about herself in a negative way. Despite these difficulties, Hontz herself does not write as if she feels any pity for herself or expects you to feel it. On the contrary, she speaks with grace, mercy and love only using her story to show how there is a need to live in the light of how God sees us.
Hontz does distinguish between a good, healthy shame – the type that would cause you to see where you've sinned so that you can repent and change a negative attitude and behavior – and unhealthy shame. Unhealthy shame is when you allow an untruth about yourself to enter into your way of thinking and fester there, causing you to think less of your value and worth than you should. She writes from the perspective of a Christian and anticipates that her readers are also of the faith. From that angle, she writes that we should see ourselves as redeemed, holy and loved by God. She talks about how negative thoughts, words and attitudes should be instantly turned off and turned away from and instead of allowing ourselves to hear that we are miserable failures, we should focus on our positives.
As light and fluffy as I've just made this book kinda sound, it really isn't. It's hard to describe this book in some ways but I assure you it is not flippant, love-yourself-and-feel-empowered stuff. It's deep and impacting and the reason it is so is because it is very personal to Hontz. I highly recommend this book to anyone at any point in time. There is something useful to be gained from it. Shame Lifter
is a new release from Tyndale and worth looking into.
Carrie comes by her book obsession honestly, having descended from a long line of bibliophiles. She blogs about books regularly at Reading to Know.