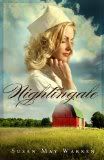 Over the past several years, I have enjoyed many of Susan May Warren's books. If you are a fan of Christian fiction, I recommend that you give them a try (I especially enjoyed her very funny Josey series
). In her newest book, Nightingale
, Susan May Warren gives us the second novel in her Brothers in Arms historical fiction series. The stories in this series are stand-alone titles, but they are all set in the World War II era.
Nightingale
is the story of Esther Lange and Wolfgang Jager. Esther, a nurse, is struggling with a sin from her past. Because of circumstances involved with the war, she begins exchanging letters with Wolfgang, and a friendship develops. Unfortunately, Wolfgang has secrets of his own that threaten their relationship. Both Esther and Wolfgang must learn to forgive themselves before they can move forward and leave their pasts behind.
Susan May Warren includes fascinating historical details in this story, and this is the part of the novel I appreciated the most. She also weaves in twists and turns that keep the pages turning. I also enjoyed that part of the story is told through letters. Of course, all of us have mistakes that we would like to leave behind, and the theme of this book is one that will touch everyone. To me, Susan May Warren summarizes the theme of the story best with this quote:
If you have made a mistake, don't let it mold your life. Let God set you free with his grace, his forgiveness and discover who you are when you let God take over. Be found in Him.
To celebrate the release of Nightingale
, Susan May Warren is hosting a contest. You can enter to win a Flip HD camcorder simply by writing a letter. Click on the link for more details on the contest and to find more reviews of this touching story.
Lauren is a wife, mother of two, and an avid reader. She thanks Litfuse Publishing for providing the review copy of this book. Lauren blogs at Baseballs and Bows.